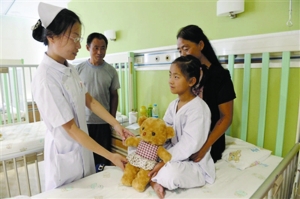 Eight-year-old Yu Wenhao, who suffers from congenital heart disease, received 300 ml of type-P blood from a donor in Jiangsu province during her surgery in Tianjin on Aug 5. [Photo/Bohai Morning Post]
Donor from Jiangsu Provincial Blood Center helped an eight-year-old girl to recover from congenital heart disease, after 300 ml of rare type-P blood was used in a successful operation in Tianjin on Aug 5.
The girl, named Yu Wenhao, was diagnosed with congenital heart disease at the age of two. Her family could not afford an operation until the Teda International Cardiovascular Hospital in Tianjin launched a public benefit program and offered to perform a free one for her this May.
However, Yu has rare P antigens in her blood cells, making it difficult to locate a suitable blood donor for the operation. People with type-P blood are extremely rare, only 10 people have been found to have such a blood type so far. After searching for the matched blood type in different blood banks across China for nearly three months, the Blood Center of Tianjin Municipality finally found a bag of 300 ml type-P blood in Jiangsu.
The blood supply from Jiangsu was transported to Tianjin via a bullet train in time for the girl's cardiac surgery on Aug 5. According to the physician in charge of the operation, the girl is now in a stable condition and is expected to be discharged of the hospital within five to seven days.