A new grand Buddhist culture park is expected to greet visitors in Nanjing, capital of Jiangsu province, at the end of 2015 as the construction of the key part of the Mount Niushou Relics Park is now near completion and the decoration project will start in earnest soon.
With an area of 10.8 square kilometers, the park has four major areas for tourists, among which the Foding Palace is the most attractive one.

A visit to the Foding Palace will unleash the wonders of earth, fire, water and wind inside the palace. [Photo/English.jschina.com.cn]
Coming through the mountain and walking along a long corridor painted with sacred paintings, visitor can access the Foding Palace that hides under a splendid dome decorated with a golden reclining Buddha, and witness four wonders of earth, fire, water and wind in the palace.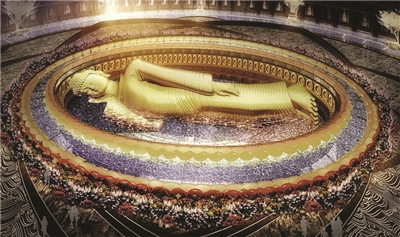 The splendid dome in the Foding Palace at the Mount Niushou Relics Park in Najing, Jiangsu province. [Photo/English.jschina.com.cn]