Online shopping is popular around the world, making the number of postal parcels surge substantially. A string of self-service parcel pickup machines recently popped up around residential areas in Zhangjiagang city of Jiangsu province to meet the increasing demand for safe places to leave parcels when people are not available to pick them at their given address.
The machines have a screen in the middle for commands and lockers on the side. Couriers log into the computerized system, choose a suitable locker according the parcel's size and enter the recipient's phone number The locker will then open automatically. After the parcel is secured in the locker, the computerized system will send a message with a password to the recipient. The recipient can pick up the parcel by entering the password to gain access to the locker.
"The couriers used to drop off the parcels at the gates of our residential area. There are so many parcels so it is hard for me to find out mine. Now, it is much more convenient to pick up a package via the self-service machine," said a resident.
To ensure the safety, each machine has been installed with cameras on both sides. Couriers are required to swipe their ID cards to access the computerized system. So it is easy for the machine supervisors to check who delivers the parcels.
Now more than 70 residential areas have been installed with such delivery machines. In addition to the parcel pickup function, the machine also allows residents to pay for credit card and phone bills.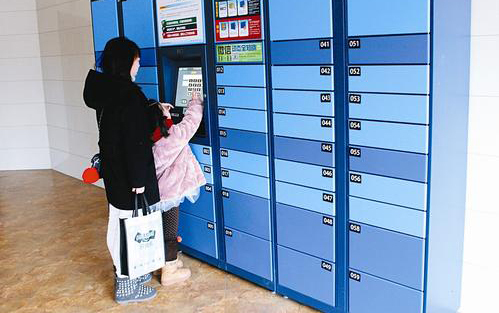 Residents pick up a parcel at the self-service parcel pickup machine in Zhangjiagang, Jiangsu province. [Photo/zjgonline.com.cn]