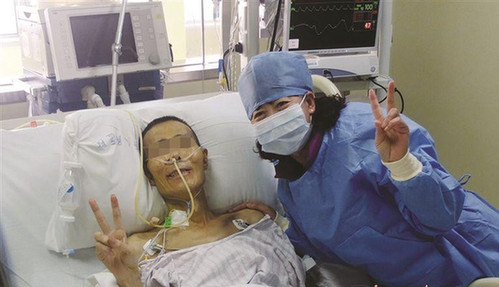 Mr Wang(left), 57, in the ICU of the lung transplant center of the People's Hospital of Wuxi, Jiangsu province.
A French lung donor saved an emphysema terminal patient's life in Wuxi, East China's Jiangsu province, during the Spring Festival.
Mr Wang, 57, breathed deeped, listening to the sound from his chest in the ICU of the lung transplant center of the People's Hospital of Wuxi city at 11 am of Feb 26. "It sounds beautiful and is better than mine," Wang praised the double lungs from a foreign donor.
During the Chinese Spring Festival, Xiao Ao, a French young man studying in China, died in an accident. His family donated his organs that rescued four Chinese, including Wang. It is also Wuxi's first successful lung transplant from a foreign donor.
Xiao Ao, an exchange student, came to China to "see a bigger world", but unfortunately got a severe traumatic brain injury during his journey on the New Year's Eve. His family members were with him in his final days in a hospital in Hangzhou. They decided to donate the organs for him and the decision can be also seen as his own will.
Xiao Ao donated his liver, double kidney and lung after his death on late Feb 24, which made him the first foreign donor in Zhejiang province.
His liver and kidney transplant operations were carried out in the First Hospital of Zhejiang Province. The two kidneys were respectively transplanted to a man of 30 and a man of 40 who were diagnosed as uremia. The organ transplantation has brought new life to four Chinese patients.
"I am the luckiest guy and I really appreciate the young boy's love," said Wang, an emphysema terminal patient. He came from Inner Mongolia and waited in Wuxi People's Hospital for three months. And the lifesaving lung was finally here during the Spring Festival. At present, Wang's condition is stable and can be transferred to the ordinary ward on Feb 27.