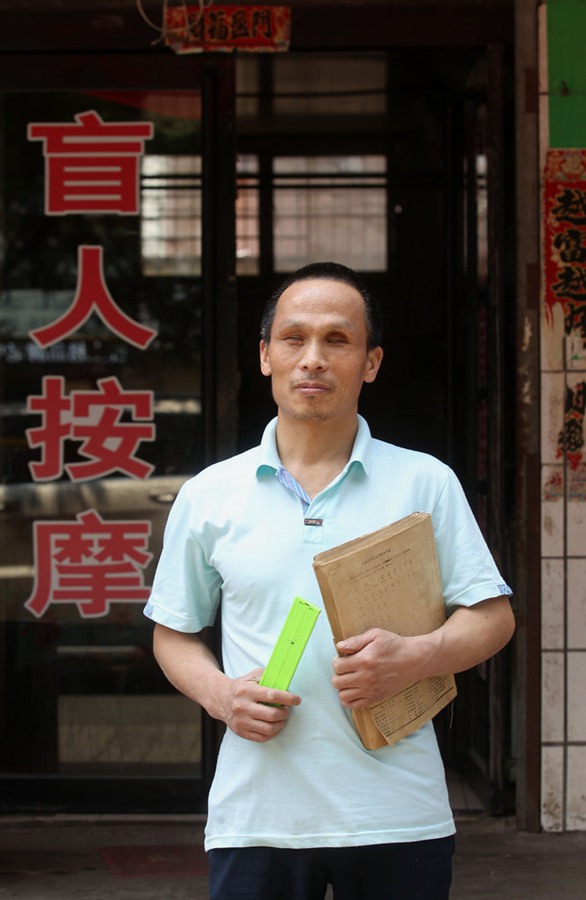 This photo taken on June 2 shows Li Jinsheng in front of the massage store he owns. There are more than 13 million people in China who are blind or visually impaired.[Photo/CFP]
The blind and visually impaired will be allowed to take China's university entrance exam for the first time this year, but some critics say the move is little more than window dressing.
People do not usually associate the gaokao, China's university entrance exam, with blind people. However, blind masseur Li Jinsheng, 46, will be taking this year's exam, as visually impaired people will be able to take part this year, for the first time.
The Ministry of Education officially announced this development on March 28, and Li, one of three blind candidates this year, is considered to be one of the most active people who petitioned for this reform.
On Tuesday, Li – whose childhood dream was to become a lawyer - received his admission card to take part in the gaokao. The authorities informed him in September that the test would be the same as for sighted candidates - except that it would be in Braille, the reading system for the blind.
Li lost one of his eyes in an accident at the age of six, and became completely blind at the age of 26, following a gradual deterioration of the other eye.
Li said that his Braille skills are "extremely poor" because he was not born blind, and he petitioned to take an audio test but has not yet received a reply.
"No matter what the result is, I am grateful," he said. "The process itself means more than the result."
Related story: New vision for university education?