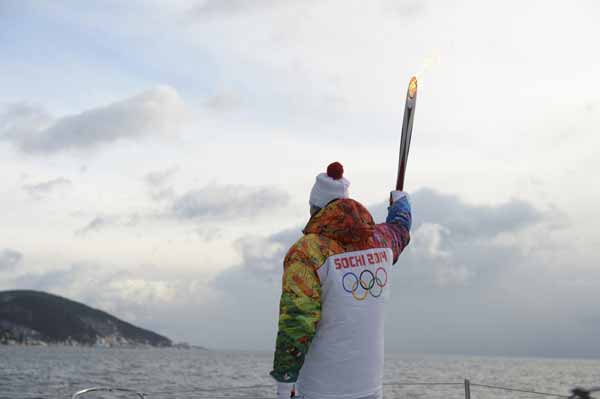 A torchbearer holds up the 2014 Sochi Winter Olympic Games torch atop a boat during the torch relay in Lake Baikal in this handout from the Organizing Committee Sochi 2014 released on November 23, 2013. [Photo/Agencies]
MOSCOW - The Olympic flame for the Sochi Games was taken on an underwater relay Saturday in the world's largest freshwater lake.
TV broadcast showed that a local torchbearer took the torch into the chilly water of Baikal lake in Russia's Far East with water-resistant flare burning.
The underwater relay was part of the Olympic flame's legendary 123-day journey which covers Russia's 83 regions spanning 132 cities and brought the flame also to the International Space Station and the North Pole recently.
Lake Baikal, stretches 636 kilometers from tip to tip, is the world's seventh largest lake and the deepest one on the planet.
Also, as the world's oldest lake, Baikal is known for its natural resources. It contains one-fifth of the Earth's freshwater reserves and is home to nearly 2,000 species of plants and animals, two thirds of which cannot be found anywhere else in the world.
According to the Sochi Games organizing committee, the divers submerged to a depth of about 13 meters.
The 22nd Winter Olympic Games are slated for February 7-23, 2014 with 98 events to be contested.