Editor's Note: A violent terrorist attack at Kunming Railway Station on Saturday night, which left at least 29 civilians dead and more than 130 others injured, has sparked a wave of shock and outrage at home and abroad. Our readers, while expressing their condolences to families of the victims, condemn the terrorist act, for which there can be no justification and hope the perpetrators will be brought to justice.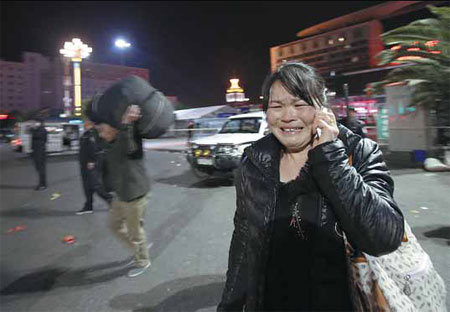 BeNiceToAll (US)
I am from the United States. I am just a simple man, like many in China. My grandfather fought with you against the Japanese in World War 2, and I believe it is time for China and the United States to team up to defeat terrorism. So many countries have problems with terrorism. The United States had 9/11 in New York City, the subway attacks in London, attacks on Russia, and now today, China is the target. I believe all of the strong nations on earth must join together and create a team to fight terrorism. That way we can share intelligence and try to prevent this kind of thing from happening. These innocent people did not have to perish today, and we must do all we can to make sure it does not ever happen again.
You may ask yourself, how can we do this? There are just so many problems between these nations, how could we ever get them to work together? I do not believe this to be the truth. We do not have to agree on other issues in order to join together to fight a mutual threat. So to everyone on this earth of ours, if you suspect terrorist activity, report it to your local authorities, and keep doing this until told otherwise. We are all citizens of the earth and have the responsibility as citizens to watch out for each other and help each other. What do you all think about an anti terrorist citizens group that spans the world? Is it possible to set one up? Can we all work together despite politics?