Chinese-style origins give vitality to domestic animation
By Zhang Xingjian (chinadaily.com.cn) Updated: 2017-01-12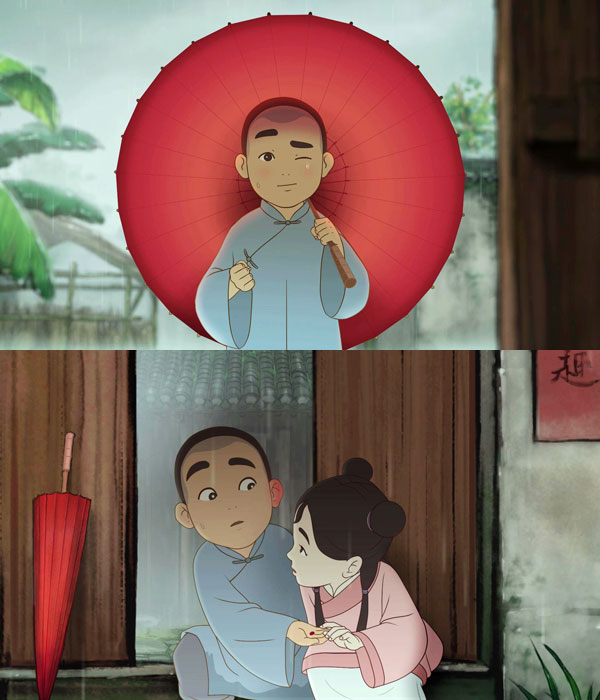 Two animation scenes from Love Sick [Photo provided to chinadaily.com.cn]
Burden of the fame
As a matter of fact, the director did not plan to release the second part of the animation at first.
"People may be accustomed to a happy ending from some Disney movies. But not every story should end in this way, as life is not that perfect. Sometimes, a story with a little regret and sadness can really touch the deep heart of viewers," Peng said.
However, given the enormous popularity of Love Sick and heightened expectation from animation-lovers, the director has to reconsider his idea.
According to Peng, in comparison with the first part of the story told from the perspective of Wang Chutong, the second part will try something different and follow the storyline of Liu Niang, from the standpoint of a female.
With regard to the specific content of the story, the director said that he had not reached an agreement with the screenwriter. Peng wanted to endow the roles with more character traits and interpret the Chinese-style elements in more diversified ways. Therefore, it will still take time to finish the final story.
Many movie-goers have reputed Peng as the next Shinkai, but he did not agree with this.
"It is my honor to be referred to in that way, but I am who I am. Every animation creator has his own style that cannot be copied by others," the director said. "Hayao Miyazaki is proficient in discussing the human-nature relationship through animations while Makoto Shinkai is known as the 'Father of Wallpaper' for his conscientious efforts in scenery drawing. I am still in the process exploring, trying to shape my own style one day."
In response to his growing reputation, Peng said he sometimes feels stressed but usually finds happiness through his work.
"Animation is my beloved career and my deepest interest, and it will not change, I am pretty sure," the director said.
"There is still a long way to go before reaching my goals. For example, I hope my works can hit the big screen in the future," Peng added.