Chinese-style origins give vitality to domestic animation
By Zhang Xingjian (chinadaily.com.cn) Updated: 2017-01-12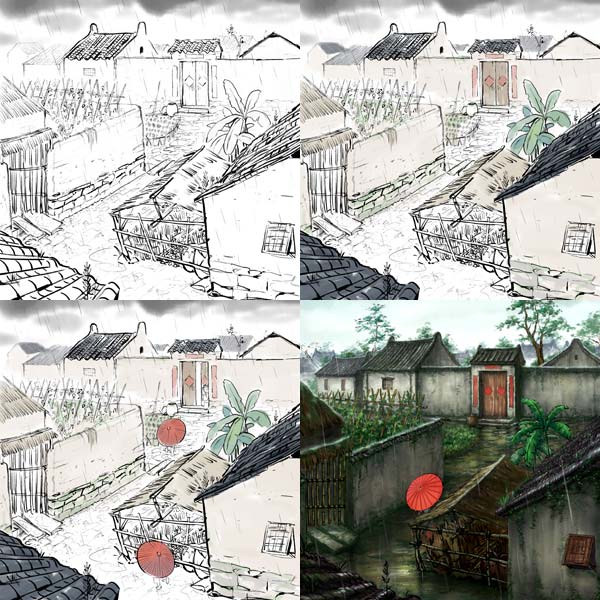 From designing and sketching to painting and the finishing touches, a single scene is finally complete. [Photo provided to chinadaily.com.cn]
Promotion of Chinese culture
Actually, Love Sick is just part of the anticipated Chinese animation project "Jiading 800 Anniversary". Jiading once was a county in ancient China and got the name in 1218 during the Song Dynasty (960-1279). In ancient history, Jiading is home to many scholars and dignitaries.
To promote traditional Chinese culture, the program picked 16 stories that happened here and adapted them into their own animations. Some stories may originate from local legends while others from poems.
"The idea of translating Chinese poems into animations is amazing. When I was a child, I was forced to recite many poems for struggling with the examination-oriented education system. I couldn't understand the complicated feelings hidden behind the lines. However, when I grew up and saw the animation, I, all of sudden, taste the strong Chinese sentiments behind the poems, and I think it is a new way to promote traditional fine culture," Chinese Sina Weibo user Jasminetan said.
"For modern people, social media including WeChat, Weibo and apps have become major information portals. People like to watch news and videos on these platforms. To some degree, traditional education on fine culture from books has been replaced already. Perhaps Love Sick has ushered a new mode to publicize our fine culture," Professor Xu Zhaoshou from Northwest Normal University.