Jilin Grain gets $1.5 billion in bid to restructure
By ZHONG NAN in Beijing /LIU MINGTAI in Changchun ( China Daily )
2016-08-04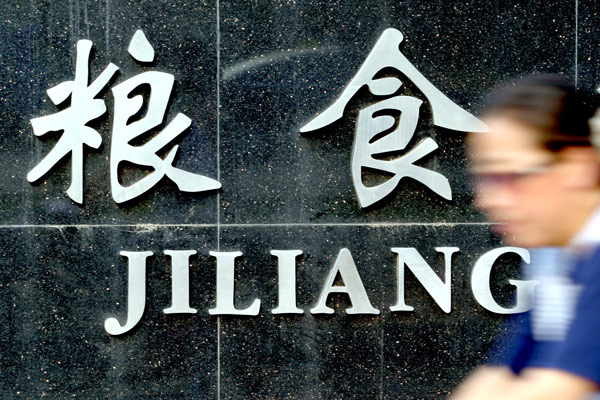 A pedestrian passess by the building of Jilin Grain Group, June 18, 2004. [Photo/VCG]
State-owned Jilin Grain Group Co Ltd, the largest grain trader in northeastern China by sales revenue, will use 10 billion yuan ($1.5 billion) of new investment to add new types of businesses this year, including agricultural insurance, machinery manufacturing and pesticides.
The company is confronting financial difficulties caused by a mature business model and limited capability in services.
The investment will be raised by Hubei Changjiang Industry Investment Group Co for Jilin Grain.
Established in 2010, Wuhan-based Hubei Changjiang is the biggest financial platform in Hubei province and manages a fund of 200 billion yuan. The company plans to raise another 10 billion yuan in the second phase to further restructure Jilin Grain over the next three years.
Dong Zhifa, deputy general manager of Hubei Changjiang, said the money will be spent on adding new businesses to Jilin Grain and cutting units that are incapable of making profit or are in sectors that have production overcapacity. Mergers and acquisitions will be the main approach to achieve these goals.
The initial investment amount for this move was 6 billion yuan. Hubei Changjiang later increased the fund to 10 billion yuan to improve Jilin Grain's earning ability and business structure.
Jilin Grain has more than 20 subsidiaries and 3,000 employees. Its annual sales reached 10 billion yuan in 2015.
"We will adopt more flexible models to optimize Jilin Grain's asset structure and avoid all negative outcomes brought about by the rigid management mechanism of the State-owned enterprise," said Dong. Jilin Grain will no longer be a company that focuses only on the grain trading and processing businesses-it will build an industry chain to expand business into other related sectors such as agricultural machinery, pesticide and other high-end agricultural technology, he said.
Based on its core capabilities of grain planting and agricultural product processing, Jilin Grain will add e-commerce, grain trading and logistics, financial services such as agricultural insurance and guarantees, banking services, futures trading and financial leasing.
"As the government is welcoming private and mixed investors participation in SOEs' stockholding and business reforms, the mixed-ownership partnership, transparent management and fair competition can be possible," said Ding Lixin, a researcher at the Chinese Academy of Agricultural Sciences in Beijing.
Ding said this will give consumers freer choice and better services.
Analysts said that such moves to reform and become more efficient will continue, with the central government pushing further ahead with its efforts to restructure the SOEs this year.
"SOEs will have to go through a deepening reform because of tougher global competition and the transformation of the Chinese economy," said Li Yining, a professor at Peking University.