Xuan Chunshun: Making contributions to Jilin's economic development
( ejilin.gov.cn )
2016-07-27
Xuan Chunshun comes from Yanji and, beefore going abroad for business, she once worked in the Yanbian Medical Instrument Management Station and the Yanbian Korea Hotel. "I went to South Korea from my hometown to start business in 2009," Xuan said.
"I went to South Korea from my hometown to start business in 2009," Xuan said. It is quite a happenchance for Xuan to begin her journey in South Korea. At the time, the China Chishan Group Real Estate Development Company was in urgent need of expanding the real estate market in South Korea, so she was entrusted to be the branch proprietor and carry out work in South Korea.
Compared with the tough journeys of other overseas business starters, Xuan had a relatively smooth beginning. However, she is aware starting a business is never easy. "Seen from the situation of South Korean market at that time, many real estate companies from China entered South Korea in order to expand their international market. However, many companies ended up with failure out of wrong management strategies," Xuan said.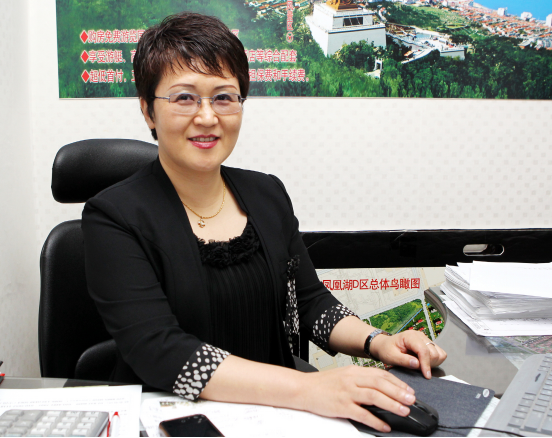 Xuan Chunshun, the senior deputy president of the Association of Chinese Nationals in South Korea and the branch proprietor of the South Korean Branch of Chishan Group Real Estate Development Company, poses for a picture. [Photo/chinajilin.com.cn]
"It is exactly what the business circle is like."
After having known about the market and analyzing industry tendencies, Xuan adopted her exclusive trump card, in terms of marketing. She revealed the Chinese countrymen residing in South Korea have had certain capital accumulations during their long-term overseas life, yet they lack the sense of belongingness all the time. It is exactly the starting point of marketing: starting with emotional input and organizing the Chinese countrymen living in South Korea via the culture of their hometown and affections among countrymen so as to promote sales and, eventually, conquer the market with honesty and illustrate the enterprise idea with love. Because of her unique marketing strategies, Xuan and her enterprise have made great achievements in the real estate market of South Korea.
"I still clearly remember that after the marketing layout was finished, the sales achievements of real estate increased abruptly; the three-year sales plan was finished within three months," Xuan said.
"A house is a commodity which requires good after-sale service." In order to better improve the notability of the brand, Xuan's team does the after-sale trace service well for clients and regularly organizes various organizations. Hence the increasing member number. At present, there are around 3000 members. She confessed from 2009 – when she started her business – to today, the sales performance has reached around 200 million yuan. "At present, we do better and better in real estate sales and our enterprise has become the leader of real estate sales industry in South Korea," Xuan said.
She has full confidence in the future development of her enterprise. As part of being an overseas Jilin businessmen, the 54-year-old Xuan said she feels so honored to be a businessperson from Jilin. "Each place has its streams in from all over the country. People from a certain place embody the regional culture, which in turn creates the personality of the businessmen there," Xuan said. "Businessmen from Jilin have profound affections with one another and remain open and generous." "This is how South Koreans comment businessmen from Jilin: they are diligent, down-to-earth, simple, generous, tolerant and reliable," Xuan said.