Provincial Party secretary visits Red Army soldiers in NE China
( chinadaily.com.cn )
2016-07-26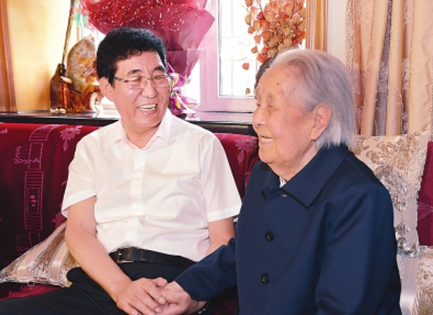 Bayinchaolu, secretary of the Jilin Provincial Party Committee, talks with former Red Army soldier Li Qi, July 25.[Photo/chinajilin.com.cn]
As Army Day is approaching, Bayinchaolu, the Jilin provincial Party secretary, visited a detachment directly under the Jilin Armed Police Corps and looked up old Red Army soldiers in Changchun, expressing his sincere blessing and respect on behalf of the Jilin government, on July 25.
During the trip to the armed police detachment, Bayinchaolu visited dormitories, study rooms and activity rooms, saying that the detachment, as an outstanding team with honor, has been playing an important role in regional stability, economic development and disaster relief over the past decades and creating a good image of the people's army. He added that the army must strengthen unity with people and support national defense reform.
Later, Bayinchaolu talked with Red Army soldiers Liu Yang and Li Qi. He asked 98-year-old Liu, who was an agent in the period of the Anti-Japanese War (World WarⅡ), about his health and living conditions, adding "The Party and our people will never forget your contribution to the Chinese people's reform and national independence. I sincerely wish you longevity and health." Li, for her part, was happy to see the secretary and told him that she has always received good care from the government.