Yin Yue:Let's build our hometown a better place
( ejilin.gov.cn )
2016-07-19
Yin Yue, the president of Zksoo, has inseparable feelings with the Chang'an Avenue – where many of his customers are located. Yin is a high-tech entrepreneur from Jilin's Nong'an and an authentic Jilin merchant.
Yin has engaged in intelligent building at Zksoo after graduating from Tianjin University. He worked his way up from project manager and general manager to the company's president.
Zksoo is an innovation project under the Institute of Software, Chinese Academy of Science. It's a large-scale high-tech enterprise that relies on the Institute's research and development advantages and the company has regularly engaged in software research and development, big data application, application system assembly, intelligent engineering, water-related affairs and smart city projects since it was founded in January 1999.
"My heart is always with my hometown and I have been paying attention to its development," Yin said.
He said he watched Jilin's economic development when he was out fighting for his business.
His company now has 18 branches across the country and he chose his first branch company in Changchun.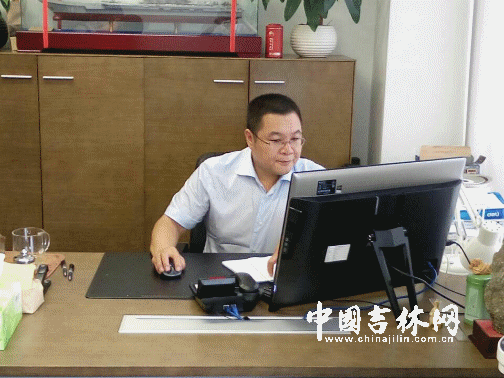 Yin Yue, president of Zksoo, a Beijing-based software company. [Photo/chinajilin.com.cn]
"Setting up the first branch in Changchun was a result of many factors. Local market environment fits company development. The company has enjoyed rapid development in Changchun over the years." Yin said. Yin said the local market and environment was what his company needed and, deep down, he also wanted to invest in his hometown and make it a better place.
To date, his company has been an influential force in China after many years of efforts by himself and all employees, becoming a comprehensive IT service and building intelligent system project solution provider with assets worth more than 100 million yuan ($14.9 million).
It's also a leader in digital resource information processing service with a service and marketing network covering major regions in the country. The company is headquartered in Beijing and has an offshore delivery center and various branches.
Yin said his company met many difficulties in early stage and all personnel endured considerable pressure when being faced with market transformation. However, he and his employees persevered and continued to exert themselves for the company's future development.
"I witnessed the company's development step by step over the 18 years. It has been an insistence on my original desire." Yin said. Yin said the Jilin merchants' down-to-earth nature and sense of responsibilities have been admired by all and they have demonstrated enhanced unity and cohesion.
Yin said the upcoming Jilin merchant meeting can bring Jilin merchants from all walks of life together and enable them to talk with each other and seek for development, which will boost Jilin's economic development.
The province has also offered favorable policies and terms for those enterprises. Yin said his company is planning to integrate the internet and education in Jilin and use the internet to offer remote teaching, which could solve problems in some remote areas.
At the moment, his company has begun similar programs in the Hunan province and has developed mature technology in this regard. In addition, the company has carried out smart city development in Jilin, Baishan and Tonghua cities. Yin said he hoped the meeting could pool strength of all Jilin merchants and make their hometown a better place.