Winter sports would be new driver of northeast economy
By He Yini ( chinadaily.com.cn )
2016-03-15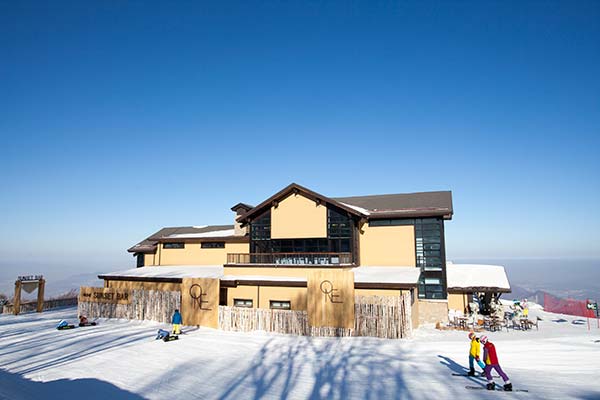 Lake Songhua Resort in Jilin city, Northeast China's Jilin province, Jan 8, 2016. [Photo/VCG]
Northeast China's Jilin province is mulling a new world-class ski resort to cash in on its rich natural resources on Changbai Mountain, one of the country's most stunning natural attractions.
"The mountain is basically covered with snow for about half the time throughout the year, and we're trying to turn that quality snow into silver," said Xie Zhongyan, secretary of the Party Working Committee of Changbai Mountain Protection and Development Zone, during the two sessions.
"Tapping into the natural resources will be a huge boost to local tourism and definitely a green and sustainable way of rejuvenating the northeast economy," said Xie, also a deputy to the National People's Congress.
He added that the magnifying effect of tourism investment is over six times, meaning one yuan of investment could bring in more than six yuan in profits along the value chain, and of course the well-preserved ecosystem on Changbai Mountain with quality snow, dense forest, and natural hot springs is a rare gift to the northeastern region.
China has been rolling out a slew of measures to boost the ailing economy in the northeastern areas including Jinlin, Liaoning and Heilongjiang provinces, which used to be the country's pivotal industrial powerhouses.
Bayinchaolu, Party chief of Jilin, said a few days earlier that the province will beef up efforts to develop the tourism industry, as part of a new engine of the service sector to drive local growth amid economic restructuring and supply-side reform.
Last year, a total of 141.3 million people worldwide traveled to Jilin, raking in 231.5 billion yuan ($35.6 billion) for the province, up 25.4 percent from a year earlier.
"Winter sports will largely stimulate the tourism growth. So we hope the Chinese government will approve our suggestions and support the infrastructure construction including building winter sports facilities," he said. "That will be a great gift to Jilin, and the northeast."
If approved, he said, the project is expected to be completed in three years from its start date.
According to him, the new Alpine ski resort will rise about one kilometer and stretch 140 kilometers, while connecting several existing resorts in the area. It will be built based on international standards and could be a training ground for the upcoming 2022 Winter Olympic Games.
Initial investment will stand at 9 billion yuan, he said. And another 20 billion yuan will be injected for the second phase of construction. "It could be among the world's top few ski resorts when completed," he said.
A total of 12.5 million people hit the slopes nationwide last year, up 21.4 percent from a year earlier, a recent industry white paper shows. Skiing enthusiasts to Jilin reached 960,000, ranking third after Beijing and Heilongjiang.
The country has 568 ski resorts and skating stadiums as of last year, according to the white paper released in February.