Northeast China needs to attract back creative talents
By He Yini ( chinadaily.com.cn )
2016-03-08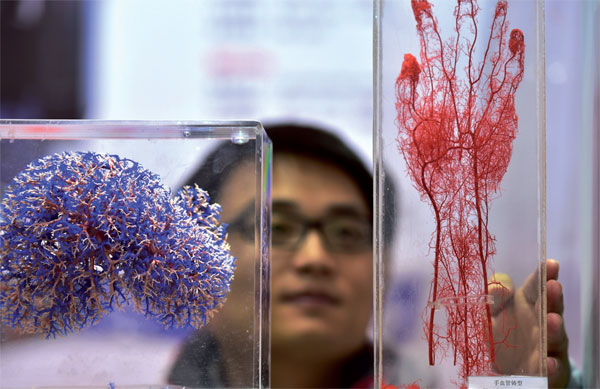 A staff displays 3D print soft tissues produced by a German high-tech company during the 2015 China Yiwu International Manufacturing Equipment Expo on Nov 30. [Photo/Xinhua]
You can't walk down the street in China without hearing the word "innovation" nowadays, as it is widely considered the golden key to driving growth in a country where the ongoing economic restructuring is taking a toll, especially on the northeast provinces.
A deeper look would lead you to the fact that such innovative power actually comes from creative talents, who can not only come up with new ideas and make new products, but also transform them into productivity and market darlings.
"If there's no innovation, there's no future. That's for sure," said Bayinchaolu, Party chief of Northeast China's Jilin province and also a deputy to the National People's Congress, during the ongoing two sessions.
"For the northeastern areas, though, a more urgent issue is to cultivate a powerful and innovative team," he said. "Although the technological innovation capability may not rival that of first-tier cities like Beijing, Shanghai, and Guangdong, we can manage to carve out a different path based on our own conditions."
He added that companies as main market players should tap more into research institutes and universities, while vowing more support for the companies to set up R&D centers to draw elite talents.
Northeast provinces such as Jilin have been suffering from a drain of talent due to the slowing economy, which has in turn undercut growth. Jilin's GDP growth stood at 6.5 percent last year, the best performance compared to Liaoning and Heilongjiang.
Bayinchaolu's words echoed Premier Li Keqiang's report of government work this year during the opening ceremony of the two sessions. Li said China should launch more science and technology programs, build first-class centers and hubs, and encourage more highly innovative enterprises.
Wan Gang, minister of science and technology, said earlier that the northeastern areas should continue to deepen reforms and carry out policies, especially policies for grooming talents, in a bid to meet challenges and embrace opportunities during the economic restructuring.
The talent pool in research institutes and universities is currently the main source to innovate and drive growth in these areas, said Li yuanyuan, president of Jilin University and an NPC deputy.
"Science education is critical because the economic impetus comes down to the country's achievements in the core and top-notch technologies and whether it can lead the trend in these areas," said Gao Yubao, president of Tianjin Normal University and a member of the CPPCC.
More importantly, these innovations have to be transformed into productivity, he said. "That's a huge challenge for research institutes, universities, companies, and even the government."
"The country's Investment in technological R&D has been expanding in the past few decades. We should continue to expand investment in."
China's investment in research and development is expected to reach 2.5 percent of GDP by 2020, and the contribution of scientific and technological advances toward economic growth should reach 60 percent, said Premier Li in the work report.