Combat sports are getting popular in NE China
( ejilin.gov.cn )
2015-12-21
China's first combat sports club opened in the city of Changchun, Jilin province, on Dec 18, in response to the growing popularity of this new fad.
The club provides 3,000 square meters of space with a boxing ring where boxers can strut their stuff every night, in front of an audience.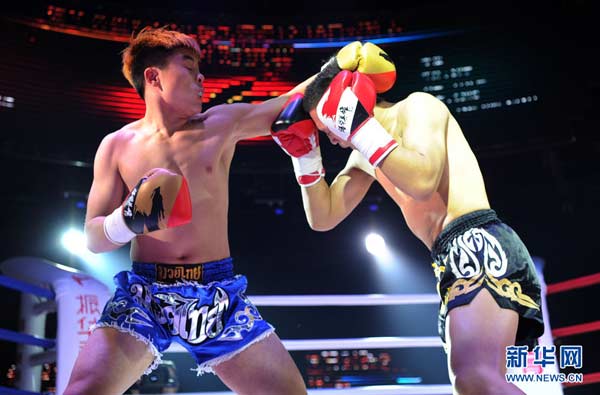 Fighters squaring off at the Changchun combat sport club, on Dec 18. [Photo by Lin Hong/Xinhua]
Sun Weifeng has come here to watch the 18-year-old Dong Lingyu face her opponent from Romania, the first game for her to put aside her protective helmet. The starting bell goes off promptly at 9:30 pm and Sun concludes that, "It's exciting and entertaining."
The audience are excited too and shout every time Dong threw a punch, drowning out the disco music in the background.
The club manager, Liu Zhenhua, explains, "We hold matches for professional boxers, like Dong, to earn extra money, and also to provide entertainment for people who like the games every night."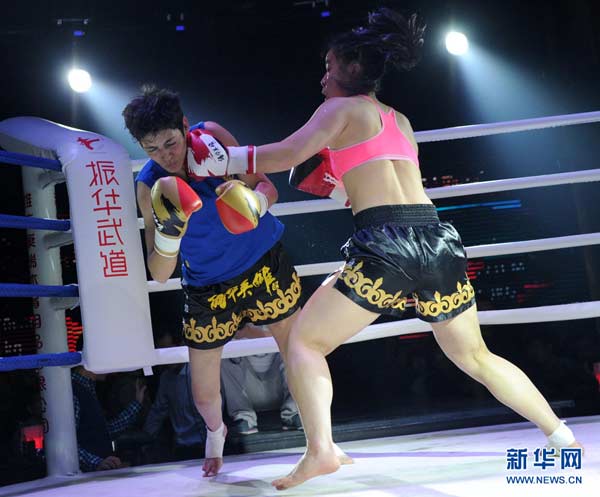 Dong Lingyu (R) giving her Romanian opponent a hard time in round one. [Photo by Lin Hong/Xinhua]