High-speed rail linking borders of DPRK and Russia starts operation
( chinadaily.com.cn )
2015-09-21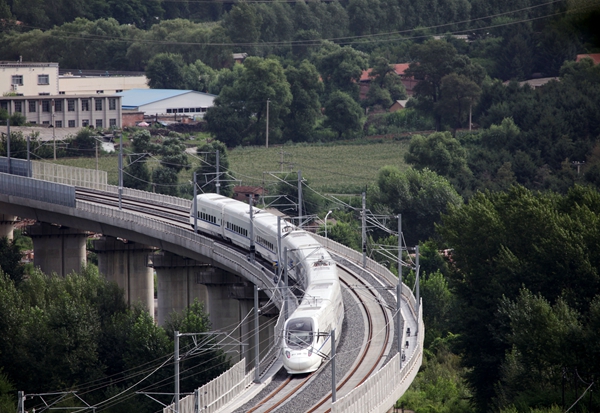 Named the most beautiful rail section in Northeast China's Jilin province, the Jilin-Hunchun section of the new rail route has nine stations that allow travelers to reach Songhua Lake (Jilin station), Jingpo Lake (Dunhua station), Changbai Mountain (Antuxi station) and Fangchuan township (Hunchun station) at speeds of up to 250 km per hour.[Photo/China Daily]
A new section of high-speed railway in Northeast China's Jilin province officially opened to traffic Sunday.
The line brings passenger rail for the first time to about 220,000 people in Hunchun, the only city at the juncture of China, Russia and the Democratic People's Republic of Korea.
The 361-km passenger rail linking the cities of Jilin and Hunchun offers travelers stunning views of lakes and mountains in the province.
Named the most beautiful rail section in the province, the Jilin-Hunchun section has nine stations that will allow travelers to reach Songhua Lake, Jingpo Lake, Changbai Mountain and Fangchuan township at speeds of up to 250 km per hour.
Hunchun lies on the borders of three countries, sits in the lower reaches of the Tumen River in Jilin province, and emerged as a promising spot for border trade in recent years. Its unique geographic location connects China with a number of countries in Northeast Asia, including Russia, Japan and the DPRK.
The city's Fangchuan township provides an unparalleled view of the border areas of the three countries and its Fangchuan Park, a national forest park, is home to a number of rare plants, animals and birds. The park is also the core area of the protection zone for the Far Eastern leopard.
Hunchun is in the Yanbian Korean autonomous prefecture, mainly populated by people of the Korean ethnic group.
The line begins a new era of modern transportation for local residents.