China Folk Art Fair protecting endangered culture
( ejilin.gov.cn )
2015-08-13
The curtain just came down on the 9th China (Changchun) Folk Art Fair on August 12, in the city of Changchun, Jilin province, which had nearly 250,000 Chinese folk art pieces, such as root carvings, embroidery, pottery and paper cuts on display, according to chinajilin.com, of Aug 12.
The fair ran Aug 7 to 12 for promoting Chinese folk art and culture. It attracted many craftsmen, companies and art lovers from across the nation to its five themed exhibition halls and more than 1,000 exhibit areas.
It also attracted people from other countries who bring their own folk arts. And in addition, the organizers added some activities, such as a children's dance competition, young journalists reporting, a cell-phone photography competition, and a dance show.
For the finale, there were "Excellent Folk Art" awards for 32 pieces, some of which were also awarded Shanhua Prize-top prize for Chinese folk art.
Estimates put the amount of business at the fair at more than 18 million yuan ($2.8 million) and the amount of intentional trade and agreements at 120 million yuan.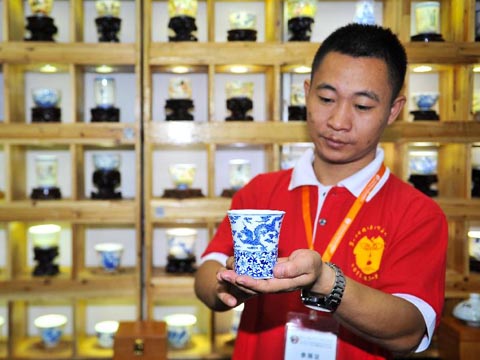 A man introduces a tea set of Jingdezhen porcelain at China (Changchun) Folk Art Fair, in Changchun, Jilin province, August 7. [Photo/Xinhua]