Jilin industrial achievements
By Fang Sha ( ejilin.gov.cn )
2015-07-17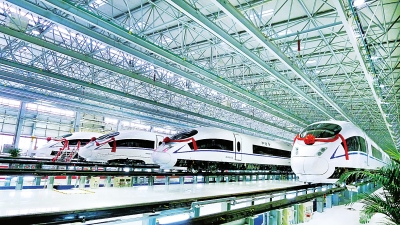 The new series of "Harmony" bullet train off the production line, made by Changchun Railway Vehicles Co., Ltd, in Changchun city, capital of Jilin [Photo by Yang Yang/ chinajilin.com.cn]
Jilin province has begun a new round of revitalization of its industries in response to President Xi Jinping's comments at the 12th National People's Congress, in March, where he met the Jilin delegation, and it has accomplished a lot in the past four months in the auto, petrochemical, agricultural, medical, equipment manufacturing, architecture, tourism, service, and emerging industry sectors, with all of them showing progress.
The province sent a special team, June 4 - 13, led by the Party chief, Bayinchaolu, as its largest industrial check ever, covering 37 cities and economic zones and travelling 4,000 kilometers. One area of interest in the auto sector was the production line at FAW-Volkswagen, a brand-new car, with an annual output of 300,000 vehicles, worth 158 billion yuan ($25.4 billion).
In the transportation sector, another important area, there was the new "Harmony" bullet train produced by the Changchun Railway Vehicle Co, in Changchun, the provincial capital, which will soon go put into use. The company is also working round the clock to produce subway cars for use in the 2016 Rio Olympics in Brazil. The province has opened border ports with neighboring countries such as Russia, the Republic of Korea, and Democratic People's Republic of Korea, to facilitate rail and sea shipments.
The All-China Federation of Industry & Commerce has an annual event where it gets member enterprises across China to do a tour of a selected province, on June 25, and chose Jilin province this year, bringing more business opportunities and projects to Jilin. During the event, the city of Jilin signed a development contract worth 13 billion yuan with China Minsheng Investment, and the province got agreements on 677 other projects worth 471 billion yuan, in solar photovoltaic, agricultural park, emerging industry infrastructure, cross-border e-business, and industrial incubation center deals. The province has also started a "Year of Service" for its industrial enterprises to provide tailored consultation to individual companies and do market research and deal with problems for each enterprise needing help.
In a new round of development, the province emphasizes pollution reduction and environmental conservation and has improved most of its leading industries, in iron and steel, coke, and cement. The State-owned Sinopec's Jilin branch has signed a contract with the Environmental Protection Ministry and built a 200-million-yuan advanced wastewater treatment system, a national Top 20 project, which has improved water recycling and encouraged the green economy in Jilin. And, since Jan 1, Jilin has enacted a plastic ban across the province, declaring war on white pollution, and is setting up more added-value green enterprises.
To give the new industries a boost, the province has started streamlining its administrative and authorization procedures, cutting the number from 592 to 234. Jilin has also added 53,731 new enterprises from last March to this March, up almost 52 percent from the same previous year period and has organized many events to get its universities and enterprise incubation centers to cooperate in the effort.
The medical industry is becoming a force in the province and has seen a growth of at least 20 percent for a 5-year period and it has grown from a traditional Chinese medicine base to a comprehensive medical center with the focus on innovation, logistics and international cooperation.
In joining the Belt and Road Initiative of President Xi Jinping, Jilin province is acting as a window on the world and has integrated NE China Customs offices, including the cities of Dalian and Shenyang in Liaoning province, Harbi in Heilongjiang province, Hohhot, and Manzhouli in Inner Mongolia, and Changchun in Jilin province, reducing cargo fees and helping give the Jilin market a boost.