NE China music and arts pay a visit to Paris
By Fang Sha ( ejilin.gov.cn )
2015-07-06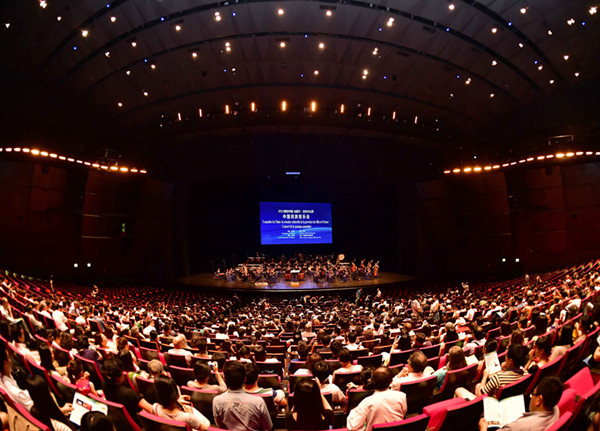 Jilin province's music and arts at the Palais des Congrès, in Paris, the night of July 4 [Photo by Zou Naishuo/ chinajilin.com.cn]
Paris, France saw the opening of "2015 China: Jilin Week" at the Palais des Congrès, near the Arc de Triomphe, the night of July 4, which has brought the French a taste of Jilin province in China's Northeast, and its traditions.
These include a blend of folk music and paintings from Chinese history, such as "Riverside Scene in the Qingming Festival", a 25-meter painting from the Northern Song Dynasty (960-1127), and "Baishan Mountain and Songhua River", a great landscape work of Jilin.
There was also a musical from Shi Zhiyou, a contemporary composer who has spent 20 years collecting folk elements and stories related to the "Riverside Scene in the Qingming Festival". The musical has 11 movements, each in a different style, telling of a trade caravan going to a fair and Chinese at an old market fair alongside the Bianhe River, with traditional Chinese melodies. Shi himself conducted the orchestra, with the young singer Gao Nannan there to take the audience inside the painting with her beautiful voice and a local French chorus joining the show, adding a slightly western element.
There were around 3,000 people in the audience that night, applauding again and again, and afterwards, a photographic display of the Changbai Mountains in Jilin, and a cultural heritage exhibit to show the wonders of Jilin. Some members of the audience expressed an interest in Chinese culture after the show, with one person remarking that there should be more of these Sino-French cultural exchanges to let the people get to know more about each other.
So, that night, Jilin's Songhua River culture resonated against a backdrop of the Seine River in Paris.