Jilin children express their thoughts for Children's Day in paint
( ejilin.gov.cn )
2015-05-29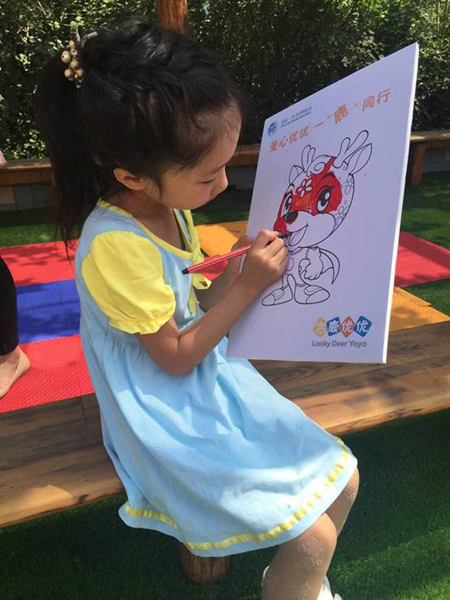 A girl is coloring the cartoon deer "Youyou" carefully, in Changchun city, Jilin, on May 28. [Photo by Meng Ying/ ccnews.gov.cn]
The China Council For the Promotion of International Trade Jilin province branch organized a painting event, on May 28, where children in the city of Changchun, the provincial capital, between the ages of 3 and 6 could paint their own versions of the the mascot of the China-Northeast Asia Expo, a deer named "Youyou", for Children's Day, on June 1.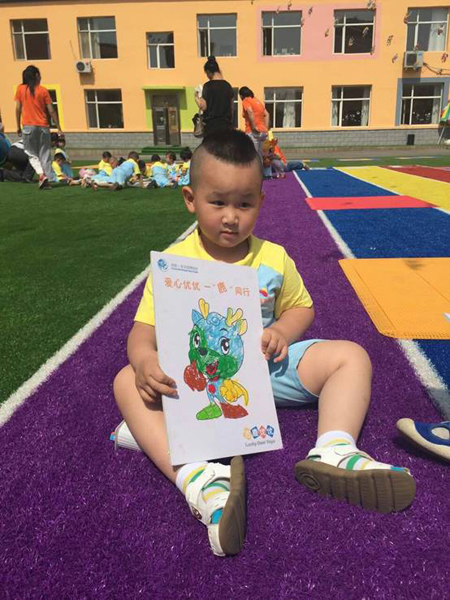 A kid showing his finished work, May 28 [Photo by Meng Ying/ ccnews.gov.cn]
The cartoon animal embodies luck and friendship and is popular with the local children, so the council decided to use Youyou to deliver a message of kindness and care for children. So, the children set to work that day on a playground with a cheerful melody filling the air on painting the deer as they imagined it, while exchanging ideas with each other and their teachers.
The China-Northeast Asia Expo has been held annually in Changchun for nine successive years so the cartoon deer has had plenty of time to fill children's minds with its confident smile and image of love.