Robotic surgery in Jilin
( ejilin.gov.cn )
2015-05-28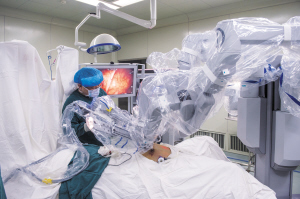 Dr Zhang Qifu operating on a 75-year-old patient, on May 25 [Photo by Zhang Cheng/ chinajilin.com.cn]
Have you seen that film,
Pacific Rim
, where humans use humanoid robots that act exactly the way the humans want them to in a fight against monsters? Well, here's a scene from the real world that almost resembles that.
It takes place in the Jilin Cancer Hospital, in the city of Changchun, Jilin province, where a robot with four arms operates on a patient, with a doctor standing behind it giving instructions, and does much more than any humans can do, with greater flexibility and has no problem, for example with a trembling hand, even after hours of operating.
Yuan Yong, head of the hospital's gynecology department, has handled 113 operations with the robot since it arrived last September, and says that the robot is especially good at sophisticated surgery. Its arm can pinpoint any area more accurately than a human hand can and make a much smaller incision. And, one of the arms has camera with a magnification of 20-times, giving a better picture of the inside of a human body, by projecting it on the monitoring screen. It also has a greater degree of rotational freedom for more complicated movements and greater accuracy.
Yuan says that modern surgery calls for more than just curing the disease, but also better protection of the neurons, keeping side effects to a minimum and helping a patient recover faster. And, this machine allows a doctor to sit down while operating, saving energy for other surgery.
When Zhang Qifu, the head of the hospital's urinary surgery department, used the robot to operate on a prostate tumor in a 75-year-old man, on May 25, he first typed in his own name and the robot immediately adjusted the operating platform's height to fit Zhang's sitting position. The doctor then commanded the robot in using a variety of surgical tools smoothly. The surgery was being done very close to the urinary tract, where, in previous operations, one slip could cause damage, but with the robot, Zhang had no worry about that.
In commenting on the amazing technology, Yuan said that it is in wide use for many types of surgery in the United States, then added that nonetheless, in spite of its advantages, it can never replace the real doctor because its movements depend on a doctor's judgment.