Couples bike to their wedding for a greener NE China
By Fang Sha ( ejilin.gov.cn )
2015-05-12
When four young couples decided to try something new for their wedding procession in the city of Jilin, Jilin province, on May 10, they came up with the idea of using bicycles instead of the popular motorcade of luxury cars for carrying the bride, to support low-carbon travel, and then took three hours to cover the 20-km route to the wedding ceremony at a mountain villa.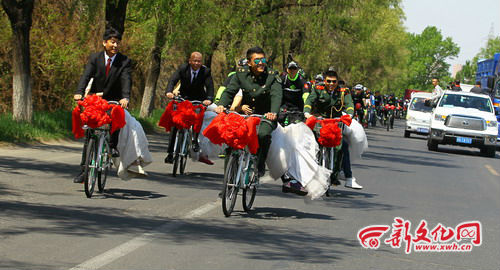 The bicycle wedding parade: the grooms in suits or military uniforms taking their brides in wedding gowns on a bike, instead of a limo, in Jilin city, Jilin province, May 10. [Photo/Xinhua]
At 8:00 o'clock in the morning, the four well-dressed young bridegrooms in a suit or military uniform, each with a red flower on the lapel, mounted their 'vehicles' that a local bike shop had decorated all in red, with a bunch of flowers in the front basket and a balloon tied to it and set off to pick up their brides, quickly arousing the curiosity of a number of people who were wondering where all the normal wedding cars had gone.
Upon arriving at the place where the brides were waiting, the four waved and announced excitedly that they were ready to pick the girls up, as the crowd nearby suddenly saw that they were witnessing a "bike-cade". And they were joined by dozens of bicyclists in uniforms, who were family members and relatives, waiting to follow the procession.
There was a short ceremony and at 9:00 o'clock the procession set out, with lots of people using their phone to catch the beautiful moment and a Miss Li, one of the blushing brides proclaiming that she was extremely happy to have so many people giving them best wishes.
The same day saw a number of couples holding their wedding ceremony but the bikers were able to outdo the motorcades and won a lot of applause along the way. The route wasn't all that smooth or easy, however, and they encountered some obstacles along the way, such as a railroad crossing and a patch of gravel, and to make their brides more comfortable, the grooms got off and walked with their bride side by side.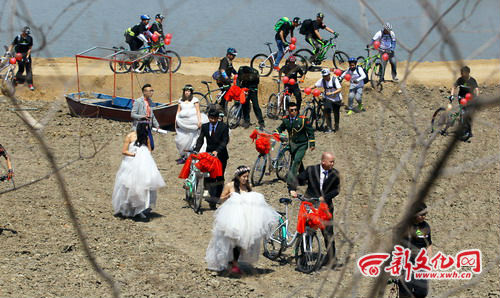 The brides walk alongside their grooms when passing through a patch of gravel land, May 10. [Photo/Xinhua]
Obviously, going by bike was not as comfortable as sitting there in a limo, but the brides said they were proud of their future husbands and enjoyed the journey.
There is a newly popular expression from a matchmaking TV show that's called, If You're The One, where a young female, commenting on marriage, says, "I'd rather cry in a BMW than smile on an old bike", choosing wealth over happiness.
But, our girls here in Jilin turned their back on those shallow values and smiled happily with their loved one -- sitting on a bike.