Few words, but a lot of help
By Wang Zhen ( ejilin.gov.cn )
2015-04-22
When the tall, robust man in the "China Health" jacket emerged quickly from the Changchun international airport terminal, at 13:40 pm, on April 21, it marked the end of a long journey, a tough struggle, and a really uncomfortable living in the southern hemisphere a continent away.
The figure, Deng Liquan, a disease control expert from Jilin province's center for disease control and prevention, was returning from Sierra Leone with a team of 15 others whom the Chinese government had sent to help control the Ebola epidemic earlier this year.
For two months, Deng and his experienced colleagues helped train local doctors and nurses, and taught local people medical techniques that they can apply in their daily lives, and, in Deng's words, "Basically, we went there to help them understand what the epidemic was all about, where it came from, and how to prevent and control it at the grass-roots level."
Deng said that it was a major task, "And, each of us was aware of the fact that we are Chinese medical personnel, but at the same time we projected a global image of responsibility."
The team had already expected to face all kinds of difficulties before setting out, but they found that it was more challenging than they had thought because, in addition to the routine training of local staff, they had to avoid being infected by Ebola themselves.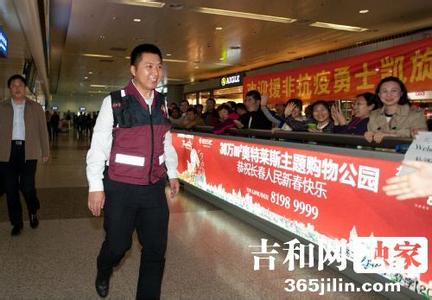 Deng receiving a warm welcome back at Changchun International Airport, on April 21. [Photo by Lan Yang/365jilin]
Deng explains, "Usually we began the training by taking the temperature of the trainees, checking to see if they had been in touch with Ebola patients, and sterilizing the classroom. Then as we spoke with our trainees, we found that they were not reporting anyone who died from the epidemic and held the funeral in secret. So, it was difficult to get a clear picture of exactly who might be in touch with infected people and what their family members were like."
These Chinese were taking a big risk working in the infected area, with the number of infections increasing exponentially, so, "That was one of the challenges we had to face in our daily work, but we're professionals and our knowledge and skills helped." There were other challenge as well, for example from malaria, typhoid, and tuberculosis, and, "We were very careful about the mosquitoes, but their bites really make you itch and the ointment we brought from China didn't work at all."
It was necessary to be very careful to avoid mosquitoes and try not to get malaria, which can cause serious illness. Deng says that he still has a vivid memory of those days in Sierra Leone, where he and his colleagues had to wear long pants and other clothing in spite of the temperature going over 30 degrees centigrade, and, "You bet, it was a real challenge for us."
And, their work didn't stop there with the medical treatments, as they found themselves doing a lot more things. They were housed in a Chinese company's temporary shelter at a construction site, so they also ended up providing logistics support.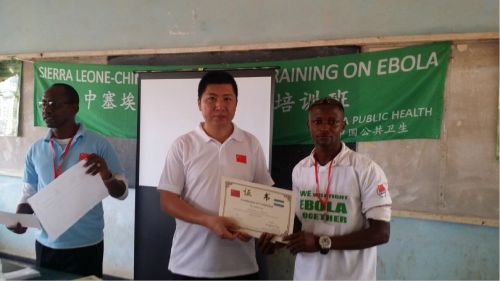 Deng Liquan giving medical certificate to a Sierra Leone trainee. [Photo provided to ejilin.gov.cn]
"On any given day, we might be drivers, kitchen staff, or shoppers, as long as we had free time, especially on holidays when the two chefs were too busy to get the work done cooking for dozens of people," Deng says.
But, these apparent difficulties seem to dwindle to nothing for Deng and his team members, when they received praise from the local people and they got used to hearing, "'China good'", wherever they went in Sierra Leone.
In conclusion, he says,"The experience was invaluable for future research and practice in epidemic disease prevention and control in spite of the hardships in that environment. And, I want to thank my family for being supportive and understanding about my work there."
This was in fact the first time that Jilin had offered assistance to a foreign country in response to something like this, according to the provincial health and family planning commission.