Changchun expats join the Chinese for New Year's celebration
By Wang Zhen ( ejilin.gov.cn )
2015-01-06
New Year's Day is probably the most celebrated public holiday worldwide and, in Changchun, the capital of Jilin province, it was no different, with foreign experts working there celebrating the beginning of this new year with Chinese friends for-naturally-the ritual of making dumplings, on Dec31, in hopes of having good fortune in 2015.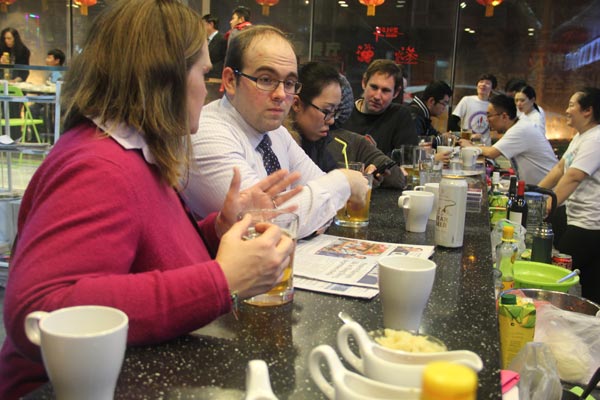 Expats having a relaxing experience on New Year's Eve.[Photo by Liu Xiao/China Daily]
Many expats also joined their Chinese friends on New Year's Eve to watch Chinese folk music performances and to see the many red lanterns hanging everywhere to create a joyful atmosphere. These reminded one Cuban, named Santiago, of his hometown and he reminisced, "Back home, the way we celebrate New Year is similar to here. We have lots of people, very enjoyable."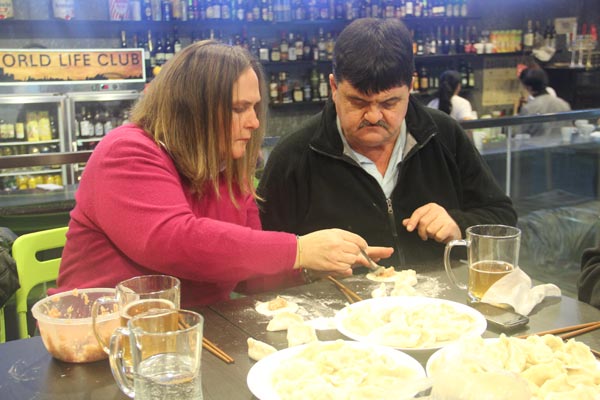 Two expats discussing the finer points of dumpling making, on New Year's eve.[Photo by Liu Xiao/China Daily] 
One party was the brainchild of the provincial government's information office and of the city's foreign expert affairs office. As the number of expats in Jilin province increases, the government has been pay greater attention to ways to integrate them with the local culture.
Jilin now has around 1,000 expats working in it and about 7,000 foreign students.