Four Antarctic science investigators from Jilin University set off to Kunlun Station
By Liao Wei ( ejilin.gov.cn )
2014-12-17
All members of the 31st Antarctic expedition team, including four teachers and students from Jilin University in Changchun, Northeast China's Jilin province, left China's Zhongshan Antarctic Research Station on Dec 15 after preparations taking half a month.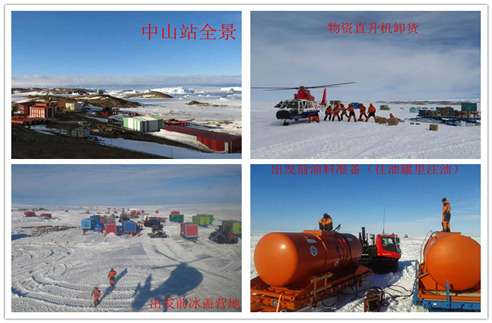 Clockwise:1. The panoramic view of China's Zhongshan Antarctic Research Station. 2. The expedition team downloads supplies from a helicopter at the Zhongshan Station. 3. The team's camp site at Zhongshan Station. 4. Staff workers fill gasoline into a tank before they head for Kunlun Station. [Photos/chinajilin.com.cn]
They trekked more than 1,300 kilometers and mounted 4,083 meters in altitude to China's Kunlun Research Station in the Ice Dome A area, the highest point in the Antarctic inland's ice sheet.
The team tied up loose ends in the construction of the station's second phase projects, and conducted ice core drillings and astro-observations as the four members from Jilin University were mainly responsible for the in-depth ice core drilling project to get samples.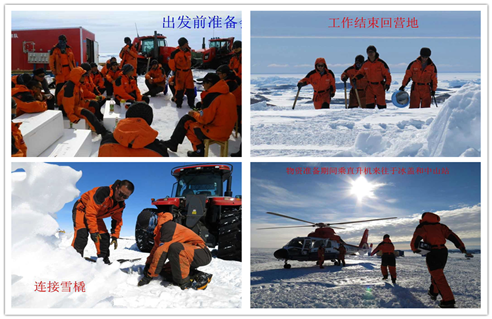 Clockwise:1. The team makes preparations for their mission at Kunlun Station. 2. A group of staff workers came back to the camp site at Kunlun Station. 3. Two staff workers connect a sledge to a vehicle at Kunlun Station. 4. Members head to a commuter helicopter between the Ice Dome and Zhongshan Station.
The four personnel sent a message of blessings to a gala held at the university's Construction Engineering College on Dec 14. The content of the message is as follows:
Dear teachers and fellow students:
We are Zhang Nan, Yang Cheng, Li Bing and Gong Da from the 31st Antarctic expedition team. We are sending our best regards from the faraway Antarctic Pole. We hope the college enjoys a flourishing development, and that everything will go well with all of you.
We hope teachers can make great strides in scientific research and teaching and that students can evolve into pillars of their field of construction engineering in the future.
We will carry forward the spirit of the university and college in the Antarctic and strive to complete our mission. Looking forward to seeing you all soon.