Sculpting work begins to create an ice and snow world in Changchun
By Liao Wei ( ejilin.gov.cn )
2014-12-12
The Jingyuetan Vasa International Ski Festival, which aims to build an ice and snow dreamland for local residents and tourists, will start in Changchun, capital city of Northeast China's Jilin province, on Jan 2, 2015.
The snow piling was finished on Dec 10, and the sculpting project has begun. The dreamland is expected to be ready for the public on Dec 24.
The major sculpture is named "Welcome". It sits at the main venue of the opening ceremony, aiming to create a friendly and hospitable atmosphere.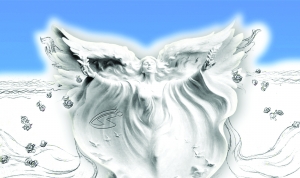 The design of the major sculpture "Welcome" of this year's Jingyuetan Vasa International Ski Festival.[Photo provided to China Daily]
It is 25 meters high and 80 meters long, involving 80,000 cubic meters of snow and is expected to be finished on Dec 30. The sculpture is modeled after a moon goddess, who is gentle and amicable and unfolds the banner of Worldloppet, an international sports federation of cross-country skiing marathons, while the beautiful landscape scenery of Jingyuetan will be presented as well. They symbolize the fact that Jingyuetan Vasa is joining Worldloppet, as well as local enthusiasm in greeting the New Year, new friends and new events.
Jingyuetan has stepped up efforts in the construction of ice and snow products this year, which cover an area of 10 square kilometers and involve 500,000 cubic meters of snow, twice that of last year. The dreamland takes up an area of 80,000 square meters and uses 400,000 cubic meters of snow.
Jingyuetan scenic spot has planned four areas for ice and snow products, namely a snow sculpture viewing area, Vasa culture expo zone, ice and snow entertainment area, and snow sports field. It retains a Continental style, adds in Chinese elements, adds a tourist interaction session, and enriches the product content to build a winter fairy tale world. Visitors can attend competitions and experience a different winter in Jingyuetan.