World's most endangered cat found in Jilin
By Wang Zhen ( ejilin.gov.cn )
2014-11-12
The world's most endangered cat, which killed a home-raised cow and left an incomplete body in a valley in Shulan, a city in the central north part of Jilin province, was identified by the State Forestry Administration on Nov 4.
The big cat is an Amur leopard, concluded the national forestry office, after analyzing samples of the big cat's fur, blood and other related evidence.
But, they were unable to identity the total number and sex of the aggressive cats.
Sun Jianmin, a villager in Xiaocheng county in Shulan, found his 300 kilogram cow missing on the evening of Oct 21. The farmer eventually found the body of the lost cow.
"I found her whole left hind leg gone with only the bones left," Sun described to the local forestry officer. "I guess some kind of monster bit the poor thing because I saw the teeth marks."
A Shulan forestry office staffer found the unidentified animal's footprints a couple meters away from the cow's body and a few scratches on a tree nearby.
The office concluded that a big cat killed the cow, but added that they were "not sure what it is given the city hasn't had any big cats in recent years." They need to pass all the evidence and information to the national forestry office for further investigation.
In fact, Amur leopards take their name from the Amur region in eastern Russia. They are considered the most endangered cats on the planet. Though there are differing reports about just how many of them remain in the wild, the largest estimation is less than 50 individuals.
Once found from South Korea to north of the China-Russia border, they are now nearly extinct in the wild due to poaching for fur, loss of habitat and trophy hunting.
"Jilin has roughly 13 Amur leopards who are under appropriate protection because hunting here is forbidden," said one Jilin provincial forestry officer.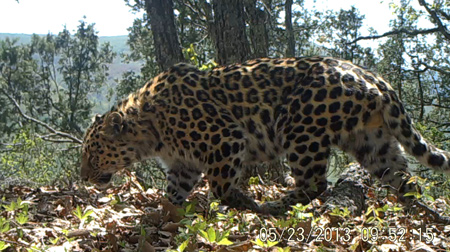 An Amur leopard is spotted in Heilongjiang province in this file photo provided by Xinhua, December 27, 2013. [Photo/Xinhua]