Chagan Lake scenic spot
The Chagan Lake scenic spot is located in the Northwest of Jilin's Qianguo county, 45 kilometers from Songyuan city, 193 kilometers from Changchun city, 132 kilometers from Baicheng city, and 265 kilometers from Harbin in Heilongjiang province. The lake is crisscrossed by both convenient water and land transportation.
The scenic area is at the mouth of the Songhua River, A magnificent Tibetan lama temple, "Miaoyin Temple" on the Aobao Mountain at the scenic spot, sits on a broad square, where are large activities are held on June 14 and 15 every year. A museum nearby hosts Tahu city relics, stone tablets inscribed with Manchu and Mongolian, and relics unearthed from the Qingshantou historic site.
The Fangyan Building, at the top of the scenic spot, is a towering five-story example of neo-classic architecture that resembles the Yueyang Building at Dongting Lake. From the top of Fangyan Building, visitors can take in the entire scenic area. A statue of a Mongolian girl to the east of the Yinsongwei Dam salutes and welcomes tourists from far and wide.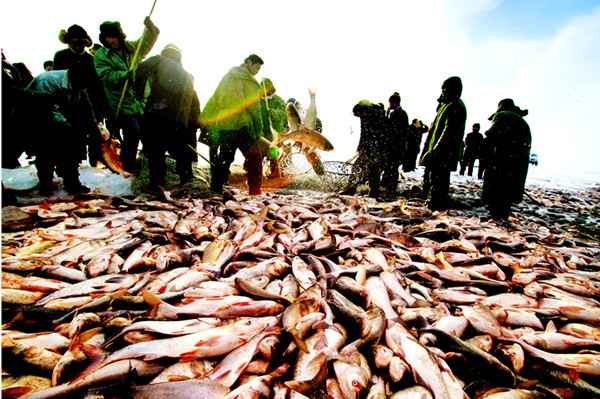 Winter fishing in Chagan Lake
The scenic spot has pavilions, trees, pathways and sculptures, all scattered across the park like stars in the sky. Evergreens and blooms from a small botanic garden complement the architecture. Sculptures of historical figures, such as Jenghiz Khan, Gada Meiren, and Togtoh and Mongolian warriors, as well as the 12 Chinese zodiac signs, all dot the area.
The Chagan Lake abounds in natural resources, fishing and reeds. It's home to 68 fishes in 15 families, such as carp and crucians, as well as shrimp and pearls. The lake produces 3,000 tons of fresh fish and 30,000 tons of reeds. The bighead carp has become a green food accredited by the national green food certification center. Winter hunting at Chagan Lake is spectacular, with thousands of people drilling through ice and hundreds of thousands of fish bursting through. Vehicles run day and night for delivery. The lake is also a wetland nature reserve, a paradise for wild animals and birds, named a provincial nature reserve in 1992. A 30-meter-high fun palace was established at the end of the lake, spanning 200 meters in diameter. It houses thousands of people sightseeing and playing. There are also ships for tourists to boat around the Chagan Lake and take in the beautiful scenery.