Korean cold noodles
( ejilin.gov.cn )
2014-08-07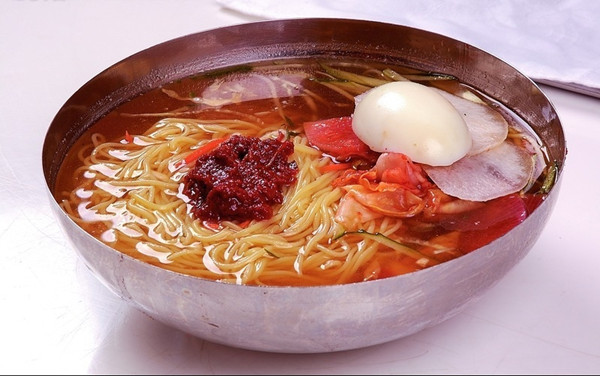 Korean cold noodles are a popular ethnic group food both in China and abroad, soba noodles being the most famous of all. They use a beef or chicken broth base and includes spicy cabbage, sliced meat, eggs, cucumber and pear strips. The noodle is supple and the soup is cool, with a tart, spicy taste.
Invented in Korea, the noodle is popular for its cheap price and strong flavor. It can be found in many snack bars along the street.
People normally eat Korean cold noodles in summer. The standard preparation is to run the cooked noodles through cold water, adding salt, vinegar, soybean sauce, tomatoes and cucumbers. They go wonderfully with pickles.
Korean cold noodles are also called Yanji cold noodles due to their popularity in Yanji.