High-tech startups flock to Jilin innovation zone
By Li Fusheng ( China Daily )
2014-04-23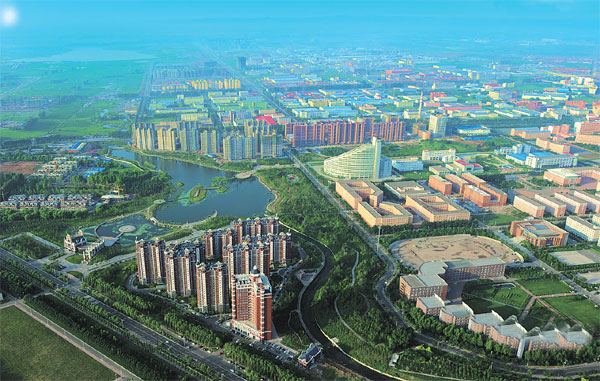 Changchun National High-tech Industrial Development Zone is home to an increasing number of high-tech companies as it steps up efforts to promote innovation. Photos provided to China Daily
Skilled workforce and research hub attract int'l entrepreneurs, Li Fusheng reports.
High-tech zones are mushrooming across the country, but one in Changchun in Jilin province, is attracting fame for its efforts to promote innovation.
"We are aware that the industry cannot thrive without innovation," said an official at the administrative committee of the Changchun National Hi-tech Industrial Development Zone.
The philosophy is paying off as many companies in the zone are making enviable progress compared to their competitors across the nation.
One of them is Changchun JA Biotech Co. Once an obscure name, it is now China's largest hydro gel producer.
"Here the zone provides us with a powerful 'weapon' and that's why we are growing rapidly," said its president Guo Qingzhou.
The 'weapon' Guo referred to is a bio-medical research facility in the innovation center, which the zone's administrative committee founded in 2009 with four universities in the province and five institutes under the Chinese Academy of Sciences.
An employee at the center said the research facility pools the resources of all the research institutions and investors and therefore produces more and better results.
Besides the facility that benefits Guo's company, another four were built in the zone to promote development in optoelectronics, new materials, agriculture and new energy.
The administrative committee has also fostered the zone's innovative environment. It started 70 policies that offer support in many aspects from research and development, human resources to financial services.
As of late April, the committee earmarked more than 50 million yuan ($16.07 million) for 288 research and development projects initiated by companies in the zone.
The committee also partnered with the Zhongguancun Science Park in Beijing to sharpen its technological edge.
These moves have attracted professionals from around the globe, said local officials.
Statistics show that the zone is now home to more than 30,000 senior, innovative researchers, accounting for 60 percent of the total in Changchun, and about 1,000 of these studied overseas.
These high-caliber people and probably the largest cluster of research institutions in Northeast China is why entrepreneurs come to the zone to start up businesses, said local officials.
Among others the zone houses 14 universities and colleges, 39 research institutes, 12 national labs, 13 national testing agencies and seven international labs founded by China and Russia.
For people and companies with a more entrepreneurial focus, the zone's business incubators may be more appealing.
One official at the zone said it has 19 incubators that provide a combined floor space of 3 million square meters for at least 4,000 startups.
Among them is the Beihu Science Park, which attracted 380 million yuan in investment in 2013.
When completed, the park will offer offices for about 1,000 small and medium-sized companies and create 20,000 jobs, said its project manager.
In addition to infrastructure, the committee will provide companies in incubators with access to public research facilities, help them explore the market and offer them help in human resources as well as financing.
"Now we have more ways to raise capital due to the high-tech zone's help," said Li Hongguang, general manager of a software company in the zone. He admitted that financing used to be a major headache for many small companies as it is hard to get loans from banks.
Almost 100 financial institutions have been established in the zone in the past four years with combined capital of more than 20 billion yuan.
They lent 900 million yuan to boost companies' development. With their help, nine companies have gone public, with another nine to join them soon, according to the zone's committee.
The committee sets aside 100 million yuan each year to encourage entrepreneurship since 2011. A total of 54 entrepreneurs have since benefited from the program.
Now the zone is home to 80 percent of the province's tech startups as well as 40 percent of its well-established high-tech enterprises.
Due to their performance, these companies have been invited to draw up and revise 35 national technological standards.
Between them they have filed nearly 4,000 patent applications and undertaken more than 530 national projects.
The zone's committee established a market in 2012 for companies to trade their research and development results.
A total of 290 contracts worth 250 million yuan were inked in 2013. In addition, 11 intermediaries in the market are offering companies services such as patent application, trademark registration and legal counseling.
The market's performance won praise and a reward of 500,000 yuan from the Ministry of Science and Technology in 2013.
The market is expected to attract more than 100 tech companies and offer 90 percent of Changchun's technological resources by 2015, said a local official.
Contact the writer at lifusheng@chinadaily.com.cn