Jilin's fertile plans for farmers
By li Fusheng ( China Daily )
2014-03-26
Official: Larger-scale production, rising income make it a 'decent job'
Jilin province is shaking off the stereotype of farming as a low-paid, dead-end job as revenues increase and a senior provincial official vows to make it a desirable profession.
"Farmers will have a greater interest in farming and regard it as a decent job when they have a higher income than urban residents," Jilin's top political leader Wang Rulin said on March 9 at the National People's Congress.
One of the initiatives Wang and his colleagues proposed to help farmers earn more is large-scale farming.
Statistics from the agriculture province in Northeast China show that a 10-hectare farm yields about 100,000 yuan ($16,180) a year.
That is 28,000 yuan per person for a rural household, nearly 6,000 yuan more than urban residents' per capita disposable income in 2013.
So the provincial government is helping rural households contract for larger tracts of arable land by making it easier for them to get loans.
With few assets, farmers often have difficulty getting financial support, said Wang. Today the average farm size is only 1.67 hectares.
So the provincial government is proposing use of prospective farm production as collateral.
"For example, if a farmer's land can yield 1,000 yuan worth of corn, he can get a 700 yuan loan," said Wang.
Jin Shengzhe is one of the beneficiaries. A farmer living in Xinxian village in Jiutai city, he contracted to use almost all the land left untended in his village after many residents left to find employment in the cities.
He harvested 600,000 kg of rice in 2013 that gave him a net profit of some 2 million yuan.
"Friends said I made more money as a farmer than them working in the city."
Now that the measure is working, the government is planning to help forest and grassland owners to obtain loans in the same way.
Human resources
In addition to financial support, since 2012 the Jilin government has pooled human resources by organizing successful veteran farmers to pass on their farming skills.
Among them is 59-year old Zhou Fengjiang. A farmer for some 40 years, Zhou is ready to offer tips to members of his agricultural cooperative in the province's Qianguo county.
"In fact, my tip is to be careful in each step of farming because there is no chance for you to correct your mistake," said Zhou.
Zhou's cooperative has 52 households that manage 800 hectares of land. Each hectare yielded 12,500 kg of corn in 2013.
He said there will be an even bigger harvest this year as they recently dug another 40 wells for irrigation.
With a promising harvest ahead, he is also "delighted the provincial government is making agriculture a top priority".
"I have learned that it is planning to increase subsidies to farmers and has promised that government investment in agriculture 'will never be compromised' whatever the financial conditions."
Zhou said the favorable policies have created rising enthusiasm among farmers. Before they spent long, leisurely winters as the land lay fallow, but now they attend classes and expos to learn new techniques.
"Traditional wisdom alone won't work so we like to learn something new," said a farmer surnamed Xia in Changchun.
He said he has been a frequent visitor to the city's annual agricultural expo where he buys seeds for new crop varieties and learns about agricultural developments.
Sun Dachuan from Xinzhuang township in Yushu city attended a training session on agricultural machinery in December. He said the two-day session attracted more than 100 farmers from across the city.
"Most equipment maintenance centers are far away so we want to learn how to do the repair work if the machines go wrong."
In contrast to the desolated image in some people's minds, Sun said villages are now full of vigor and "even some college graduates are coming to work as farmers".
Yang Xiyue is one of them. A graduate from the Economic Management Department at Northeast Normal University, Yang quit his job at a local bank and established a cooperative with some farmers in Yushu city last year.
"I studied a document from the 3rd Plenary Session of the CPC 18th Central Committee and sensed scale farming is something we can do," said Yang.
"We had a bumper harvest last year and we hope to make our cooperative more successful this year."
By lifusheng@chinadaily.com.cn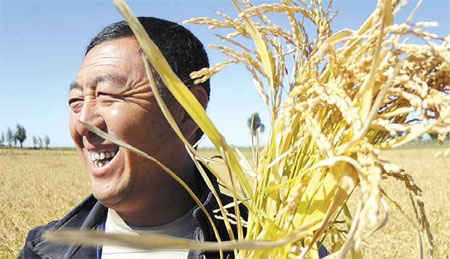 The provincial government is implementing a range of initiatives to help farmers, including use of future production as collateral in much-needed financing. Wang Haofei / for China daily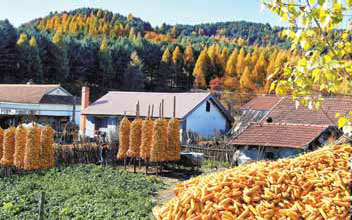 The modern countryside in Jilin.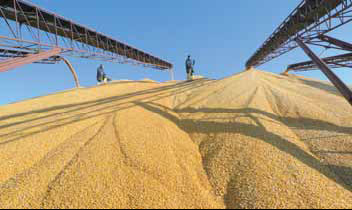 Dacheng Group can process 6 million tons of corn annually. wang Jin / for China daily

Some 1.24 million hectares in the province were planted with grain last year. Photos provided to China Daily
(China Daily 03/26/2014 page10)