Jilin high-tech zone strives to stay cutting edge
By Liu Mingtai ( China Daily )
2012-12-18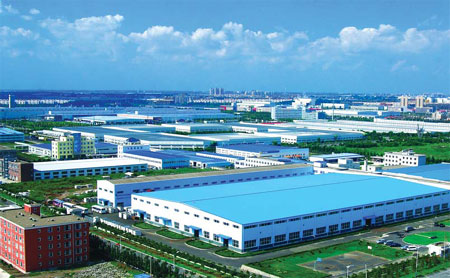 Sprawling industrial facilities in the zone. Its burgeoning industries provide opportunities to experts whose projects in turn boost the local economy.
Since it was established in 1991, the Changchun High-Tech Industries Development Zone in Northeast China's Jilin province has made substantial progress toward becoming a world-class base for innovative industry.
The zone was one of the first national economic development zones and today remains at the forefront in terms of proprietary innovation, competitiveness and services for companies located within.
According to official statistics, the 150-square-kilometer zone is now home to more than 40 State-owned enterprises and Fortune 500 firms that generated 148 billion yuan ($24 billion) in revenue in the first five months of 2012, a year-on-year increase of 26 percent.
The zone plans to change its development model and become an innovation-driven tech park, said Sun Yaming, deputy mayor of Changchun and director of the zone.
"Driven by investment and innovation, we'll go all out to make it the pinnacle of high-tech industry," he said.
The zone's administrators said its goals for the coming years include upgrading outdated industries while fostering a modern high-tech industrial cluster in the province. Its leaders hope to make it a national model park for proprietary innovation and a demonstration area for high-tech cooperation with neighbors in Northeast Asia.
A comprehensive industrial cluster has been formed in such sectors as the auto industry, photoelectric technology, biological medicine, new materials, alternative energy, food processing and modern production-oriented services.
The zone will gather innovative elements and optimize configuration of resources to develop new emerging industries.
As part of its efforts to drive growth, the zone's authorities have accelerated the construction of new research facilities, such as the Changchun Northeast Innovation Center and a 1 million-square-meter startup incubation park to attract renowned research institutions.
As a regional financial hub, the zone provides a variety of financial services to support the commercialization of research results. A number of landmark buildings housing financial institutions are located in the zone, including Wharton Wealth Plaza and the headquarters of an investment fund.
Recognizing the importance of human resources to local industry, the zone's leadership has established a special HR area, the first of its kind in Northeast China, to draw top experts from around the world.
Situated in the city of Changchun, the high-tech zone enjoys the advantage of being located along an inland gateway to Northeast Asia. It consists of four sections - the Southern Area, the Changchun northeastern core area, the Changchun-Dehui New Area and a demonstration park focusing on eco-friendly high-tech industries.
The zone's administrative committee is making full use of its advantages in geography and resources to attract more investments.
While they are aggressive about promoting development, local authorities are keeping an eye toward also improvements to the environment.
After updating its infrastructure and expanding the amenities it offers, the zone's environment has improved substantially, meeting the standards for a modern international city.
In recent years, the State has awarded the high-tech zone a series of titles, naming it a software industry and photoelectric technology industrialization base for the nation's Torch Plan, an exhibition trade center for patent technology, a pilot area for an intellectual property system, a model park for startups by Chinese experts who have returned from overseas and a high-tech industrial base for automotive electronics.
Contact the writer at liumingtai@chinadaily.com.cn