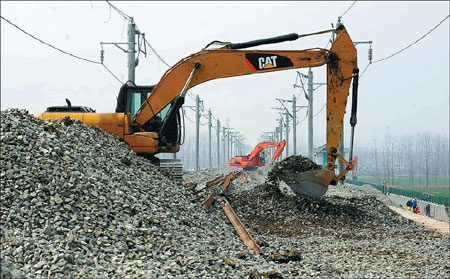 Construction machinery are seen reinforcing the roadbed of a section of the Wuhan-Yichang railway that sank in Nanwan village of Qianjiang city in central China's Hubei province, on Monday. Chen Liang / for China Daily
Workers carry out urgent repairs and tracks have been removed
Sections of a high-speed railway set to open in May have suffered subsidence, it has been reported.
The 291-kilometer Wuhan-Yichang railway will be an important link in the Shanghai-Chengdu trunk line from east to west.
On March 9, a micro blog post, claiming parts of the railway in Qianjiang city, Hubei province, had collapsed, was denied by the provincial railway construction office.
Its director, Wang Zujian, said on Tuesday that sections of the railway had suffered roadbed sedimentation due to a unique geological structure found locally.
"The problem was found in a checkup organized by the Ministry of Railways," he told China Central Television.
The checks begun at the start of this year found that parts of the railway roadbed, totaling 7.2 km, had subsided more than that allowed by the design.
According to design regulations, sedimentation within 3 millimeters a month is allowed.
Experts suggested that the roadbed should be reinforced, and on Tuesday, workers were seen carrying out urgent repairs at one location. Rail tracks were removed and more than 100 vehicles were on site.
The Shanghai-Wuhan -Chengdu Railway Hubei Company estimated that repairs are likely to take a month.
The railway's constructor, China Railway 12th Bureau Group, said that there were no quality problems involved.
However, Wang said that it was too early to conclude how the sedimentation was caused.
Construction of the railway started in 2008. Some villagers living along the route claimed that the roadbed was filled with sandy soil and lacked reinforcement.
"The railway is like a spring," said one villager, Yuan Zhiguo, adding the railway had sunk several times since it was built.
On March 1, Guangzhou-based newspaper The Time Weekly cited a whistleblower, Ni Hongjun, who disclosed that the high-speed railway was using earth instead of the required gravel during construction, and it would become dangerous when heavy rain fell on the railroad bed.
Ni, an earthwork supplier, said the constructor had used his earth instead of the more expensive gravel for that layer.
Hu Runzhou, a transport expert with China Academy of Management Science's Wuhan branch, told China Daily that the laying of railway foundations was crucial, especially for high-speed rail."The high-speed railway needs a firm base to support it, or it will bring unimaginable consequences if not properly built," Hu said.
China plans to put nine new high-speed railways into operation this year, bringing their total length to more than 10,000 km by the end of the year, early reports said.
After the train crash on July 23 last year that killed 40 people, the ministry vowed to prioritize railway safety and ordered railway construction not to rush to meet unreasonable deadlines.
Contact the writers at guorui@chinadaily.com.cn and xindingding@chinadaily.com.cn