MEXICO CITY, Feb. 20 (Xinhua) -- After bird flu, swine flu, dengue, chikungunya and Ebola, the world is determined not to be caught napping by the Zika virus.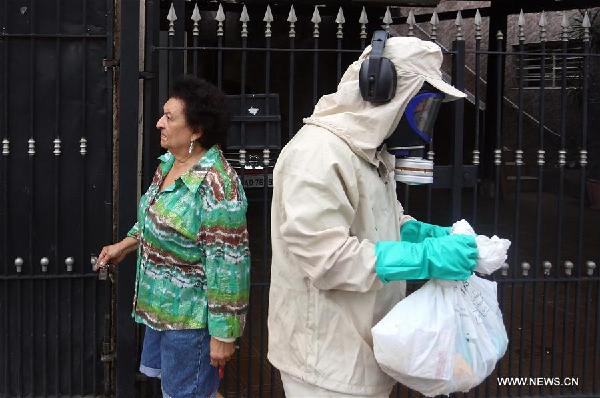 SAO PAULO, Feb. 4, 2016 (Xinhua) -- An agent works during a campaign to help to fight the Aedes aegypti mosquito, Zika, Dengue and Chikungunya bearer, in the north zone of Sao Paulo, Brazil, on Feb. 4, 2016. Brazil's Health Ministry confirmed Tuesday 404 microcephaly cases, 17 of them related to the Zika virus, while Brazilian President Dilma Rousseff, declared as priority in her government the combat to the mosquito that transmits the virus. World Health Organization (WHO) declared Monday a global health alert for possible tie between the contagion of Zika in pregnant women and an increase of cases of born babies with microcephaly. (Xinhua/Rahel Patrasso)
The World Health Organization (WHO) was roundly criticized for not declaring an international health emergency earlier during the Ebola outbreak. When it did so in August 2014, Ebola had claimed over 1,000 lives.
For Zika, the WHO declared the same emergency status on Feb. 1. This helped focus international attention on rapid response to the virus. On Feb. 17, the WHO stated it needed 56 million U.S. dollars to deal with immediate public health needs linked to Zika.
The next day, the World Bank announced it would dedicate 150 million U.S. dollars to that purpose, including mosquito eradication, helping pregnant women avoid contamination, increase access to family planning and caring for ill babies.
However, these are all short-term solutions. The WHO and governments are well aware that the only way to remove the Zika threat in the long-term, bar mosquito genocide, is a vaccine.
Efforts are underway all around the world, with the WHO saying that up to 15 companies are already or planning to begin research into a Zika vaccine. Private companies have rushed to fill the breach, with players from the U.S., India and France leading the charge.
French drug giant Sanofi may be the odds-on favorite to secure the first vaccine. It is fresh off its success of scoring the world's first approved dengue vaccine, Dengvaxia. Brazil, Mexico, El Salvador and the Philippines have already approved Dengvaxia, another 16 are in the process of doing so and millions of doses are being ordered.
Another familiar name, GlaxoSmithKline (GSK), is also seen as a likely candidate. Besides being one of the wealthiest and broadest pharmaceutical companies in the world, GSK has raised hopes that its Ebola vaccine will soon pass approval.
It is currently in phase III testing in Liberia although its progress has been slowed by the fact that Ebola patients are now so few that expanding test groups has proven very challenging.
However, a candidate from India, Bharat Biotech, is now the unlikely outsider. Their advantage lies on a simple premise, the company began working on a Zika vaccine in 2014. Today, the company has two vaccines in progress, with animal tests to begin in March.
Speaking to The Hindu newspaper on Feb. 8, Bharat Biotech Chairman, Dr. Krishna Ella, stated that "At the time we started working on the Zika vaccine, there was not a market incentive or any demand for it, largely because the symptoms are mild. But we were already working in chikungunya. Our hypothesis was that the same vector transmits this disease as well, so we thought we needed to look at this aspect as well."
However, private companies are not alone in this research. The WHO stated this week that two efforts for a Zika vaccine are more advanced than the others: Bharat Biotech and the National Institutes of Health (NIH) in the U.S.
The NIH, a biomedical research facility belonging to the Department of Health and Human Services, is banking on research carried out into a West Nile virus and others to accelerate its Zika projects.
Speaking to the press on Feb. 11, NIH's director of allergy and infectious diseases, Anthony Fauci, stated that "we are at an advantage because Zika is...a flavivirus, the same category of virus as yellow fever, dengue and West Nile fever. You would anticipate, and with good historical reasons, the kinds of approaches that would be applicable to one flavivirus would be applicable to another."
The NIH has an approved yellow fever vaccine, and two for West Nile fever and dengue in clinical trials, which should provide a research head start.
The NIH is also partnering with Instituto Butantan, one of Brazil's foremost medical research bodies, to accelerate research by having full access to Brazil's data on the Zika outbreak.
However, an understanding of the vaccine research process shows that, while the hype is real, a vaccine is nowhere near completion. On February 12, the WHO stated that a vaccine is at least 18 months away from large-scale trials.
Another American company, Inovio, has a vaccine prototype about to be tested on monkeys, with Phase I human testing potentially starting in 2016. However, this timeline is seen as very optimistic. Ella, from Bharat Biotech, said it could be up to "ten years" before its vaccine hits the market. Sanofi says its experience will speed up Zika vaccine development "by years", but has not given a precise timeframe.
The positive news is that, once a vaccine is finally released, patients will not bear the cost. The WHO's Global Vaccine Safety Blueprint recommends that vaccines be free for patients when concerning national or international emergencies. Governments or the WHO pay the manufacturer for all the doses and then distribute them free of charge inside the country. This has happened for Ebola and is likely to be the same for the Zika vaccine.