A top health official on Tuesday said health authorities at various levels in China should improve their emergency medical relief systems to cover all those in need.
Hospitals should provide medical aid according to relevant standards and regulations to anyone suffering serious diseases who cannot afford medical bills or whose identity is not known at the time of treatment, said Ma Xiaowei, vice-minister in charge of the National Health and Family Planning Commission.
Meanwhile, authorities should improve management of medical relief funds so they are used more effectively, he said.
China started to establish a nationwide system to provide emergency medical relief to special groups in need in early 2013. Before that, similar relief systems were tried in a few places, said Liu Yuanli, dean of the School of Public Health at Peking Union Medical College.
Before the system was established, patients suffering emerging life-threatening diseases could be denied treatment in some hospitals if they could not prove to the hospitals that they could afford the medical bills.
By the end of last year, the central government allocated a subsidy of 1 billion yuan ($160 million) to the emergency medical relief fund, Ma said.
About 329,000 people have benefited from the program in the past two years, he said.
The emergency medical relief fund can ease the concerns of hospitals that they might not recover medical bills from patients after providing treatment, and hospitals are encouraged to save lives first, Liu said.
The system, which provides security to a small portion of China's population, is a supplement to the existing vast social security network in China, he said.
More than 95 percent of China's population was covered by basic medical insurance by the end of last year, according to a white paper released by the State Council Information Office in early June.
The government's basic insurance system covers employees and the unemployed in cities, as well as farmers. People pay part of their salaries toward medical insurance, while their employers and the government pay the rest.
Farmers can have up to 75 percent of their inpatient medical bills reimbursed by the end of this year, according to Ma.
wangxiaodong@chinadaily.com.cn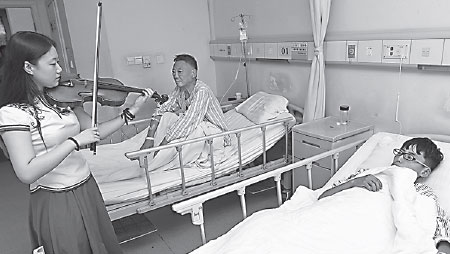 A student from the Shaanxi Artistic Vocational College plays the violin for patients at a ward in Xi'an, Shaanxi province, on Tuesday. The performance was part of an event aimed at relieving pressure on patients and aiding doctor-patient relations. Yuan Jingzhi / for China Daily
(China Daily 07/01/2015 page4)