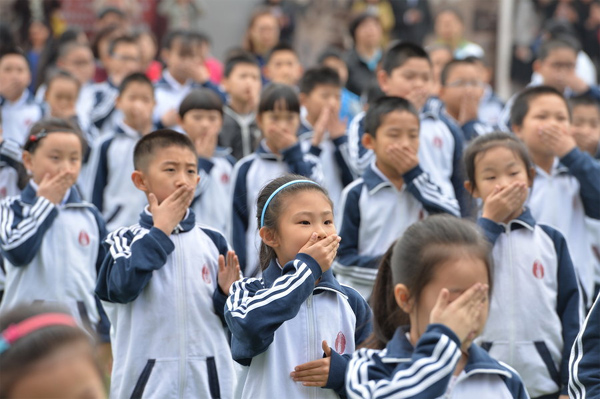 On Monday, more than 1,000 pupils at Beijing Wenhui Middle School practiced three anti-smoking gestures, which were recognized city-wide to convey that smoking is not okay in a given area, on June 1. [Photo/CFP]
Anti-smoking campaigners at home and abroad have hailed a new regulation on tobacco use in Beijing as a major step forward in the country's efforts to control smoking.
The new rules, which took effect on Monday, are the toughest ever imposed in China, and senior health officials said the capital could serve as a model to pave the way for national tobacco-control regulations and prevent an increase in smoking-related deaths and illnesses. However, they warned that the government needs to show that it is determined to stamp out smoking, and that resolve will be crucial to the successful implementation of the measures.
The regulation, adopted by Beijing's top legislative body in November, extends existing smoking bans to include all indoor public areas and workplaces, plus a number of outdoor areas, including schools, seating areas in sports stadiums and hospitals where women or children are treated.
Violators will face fines of up to 200 yuan ($32), a twentyfold increase from the previous 10-yuan penalty stipulated by the previous regulation adopted in 1996. Owners of buildings classified as public places, such as restaurants, that fail to stop smokers lighting up face fines of up to 10,000 yuan.
Members of the public can report violations to the authorities by dialing a health hotline (12320) or via social media.
The new law is fully compliant with Article 8 of the World Health Organization's Framework Convention on Tobacco Control, according to the WHO's China bureau.
"We now call on all Beijingers to get behind the city health authorities' efforts to enforce the law. All of us have a role to play," Bernhard Schwartlander, WHO representative in China, said at an event held in Beijing on Sunday to mark World No Tobacco Day.
Largest population
China is the world's largest producer of tobacco and, with more than 300 million regular smokers, has the largest smoking population. Every year, more than 1 million people die as a result of tobacco-related diseases, according to the National Health and Family Planning Commission.
The number of smokers in Beijing is estimated to be about 4.2 million, according to a survey conducted last year by the Beijing Center for Disease Control and Prevention. That figure accounts for 23.4 percent of the city's population age 15 and older, 4 percentage points lower than in 2008, according to the survey. It also found that more than 80 percent of residents support a complete ban on smoking in primary and middle schools, workplaces and restaurants.
"Years of tobacco-control efforts in Beijing have produced positive results," Zeng Xiaopeng, deputy director of the Beijing disease control center, said. "Beijing is well-prepared for the enforcement of the new regulation."
The new law is one of several recent victories for China's anti-tobacco campaigners. "In the past few months, there has been a lot of good news about tobacco control in China," Xu Guihua, deputy director of the Chinese Association for Tobacco Control, said.
In May, the excise tax on wholesale cigarette sales was raised to 11 percent from 5 percent, the first increase in six years. That may result in the number of smokers in China falling by about 4 million, according to Rose Zheng, a professor of finance and taxation studies at the University of International Business and Economics.
In April, China's top legislature adopted a revision of the Advertisement Law, which imposed a comprehensive ban on tobacco ads on mass media, plus those aimed at young people, thus eliminating loopholes that existed under the previous law.
Public opinion has been canvassed about a nationwide ban on smoking in all indoor public areas-the first of its kind in China-proposed by the National Health and Family Planning Commission last year. A number of ministries are also discussing the proposal.
"We will work with the Legal Affairs Committee of the State Council so the regulation can be adopted as soon as possible," Cui Li, vice-minister in charge of the commission, said.
Wu Yiqun, deputy director of the ThinkTank Research Center for Health Development, an anti-smoking group in Beijing, said the new regulation includes a number of clauses designed to facilitate fast, effective implementation.
"The regulation clearly states that the Beijing government will ensure funding for tobacco control. This is very important to ensure a sustained tobacco-control drive," Wu said.
For the first time, the regulation states clearly that health inspectors have the right to have access to records of video cameras installed in business places for evidences of tobacco violations. Awards will be presented to individuals and business owners who contribute to the control of tobacco use, she said.