The China (Guangdong) International Tourism Industry Expo 2012 opened in Guangzhou on Sept 14. The exhibition halls were offered to nearly 30 provincial and municipal tourism bureaus with rich tourism resources. Anhui's exhibition area became a major highlight of the exhibition.
Located at the B45 area in Zone A of the China Import and Export Trade Fair, the Anhui exhibition area adopts Huizhou-style architectural from the Ming and Qing dynasties. In combination with displaying unique Huizhou-styled culture through videos and photos, the exhibition hall introduces Anhui's tourism resources in cities and scenic spots based on the theme "Unforgettable Travel in Anhui". According to workers at the exhibition, visitors visited the pavilion endlessly. The pavilion had such high demand that publicity materials were in short supply.
Many visitors came to the Anhui exhibition area and were interested in the Huifeng Poker (an Anhui-style card game) gifts, made using landscape photos of scenic spots. The astonishing stones and fine jade of Yellow Mountain also attracted the attention of many tourists.
According to sponsor estimates, a total of eight themed exhibition halls offered 5,000 standard booths. The booths attracted 80,000 professional tourism buyers and 500,000 visitors from 40 countries and regions. The activity lasted until Sept 16.
Anhui pavilion highlights tourism expo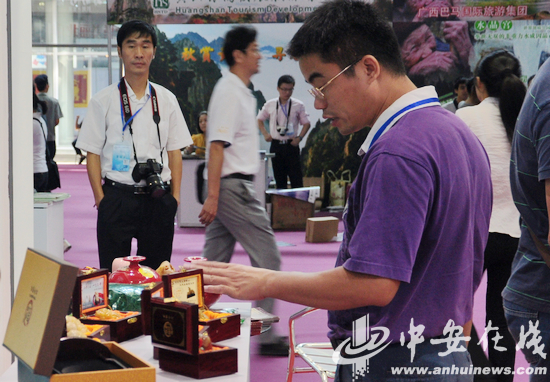 Anhui pavilion highlights tourism expo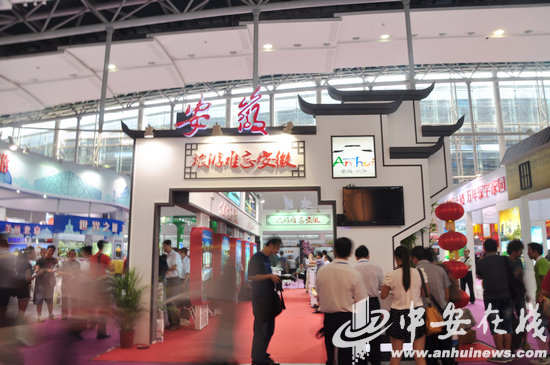 Anhui pavilion highlights tourism expo