Qimen Black (Keemun) Tea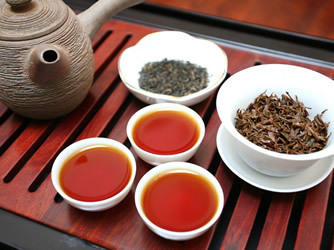 Keemun tea is a black Chinese tea with a winey and fruity taste, designated as a China Famous Tea. It is produced in the Qimen county of Huangshan city, in Anhui province. ("Keemun" was the English spelling for "Qimen" during the colonial era.)
Keemun tea has a relatively short history. It was first produced in 1875 by a failed civil servant, Yu Quianchen, after he traveled to Fujian province to learn the secrets of black tea production. Prior to that, only green tea was made in Anhui. The result exceeded his expectations, and the excellent Keemun tea quickly gained popularity in England, and became the most prominent ingredient of the English Breakfast tea blend.
The aroma of Keemun tea is fruity, with hints of pine, dried plum and floweriness (but not at all as floral as Darjeeling tea) which creates the very distinctive and balanced taste. It also displays a hint of orchid fragrance and the so-called 'China tea sweetness'. The tea can have a more bitter taste and the smokiness can be more defined depending on the variety and how it was processed.
Keemun tea is typically drunk without milk or sugar; outside China it may also be taken with milk.