Light up the Christmas dream through Guinness world record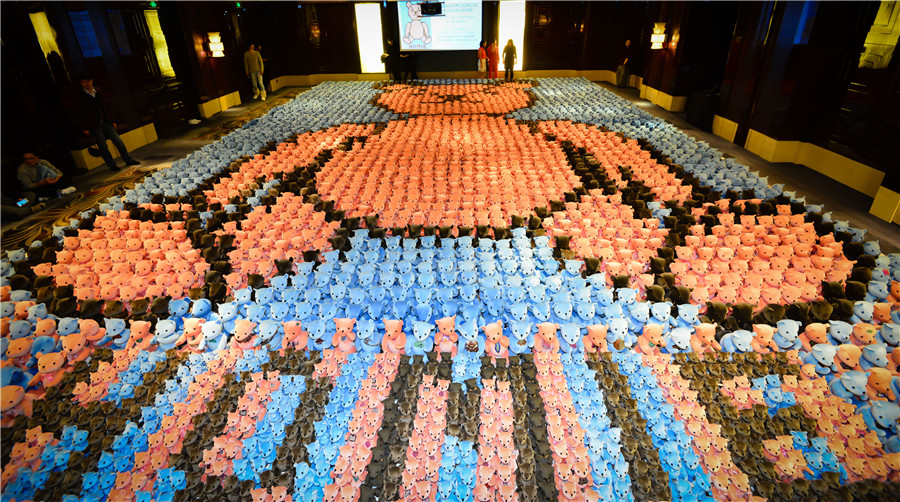 More than 4,000 stuffed animals were used to creat this mosaic picture as the Four Seasons Hotel Beijing and Sheng Tong Tong earned a Guinness World Record at the hotel, Dec 10, 2016. [Photo provided to chinadaily.com.cn]
The Four Seasons Hotel Beijing and Sheng Tong Tong earned a Guinness World Record - "the Largest Soft Toy Mosaic"– during the hotel's Christmas tree lighting ceremony on Saturday. The record was achieved by putting together over 4,000 toy bears from Sheng Tong Tong, a Chinese maternity and children's brand. The installation took up 133 square meters.
After the challenge, the participating bears are being sold to the public. Five percent of the sales will be donated to Educating Girls of Rural China (EGRC), a non-profit organization that seeks to improve the education conditions of underprivileged girls.
"It's time to enjoy a new spirit of love, hope and joy sent through each one of those twinkling lights on the Christmas tree with friends and families," said Andrew De Brito, general manager of the Four Seasons Hotel Beijing. "And it's also a time for giving. That is, to light up hope for underprivileged girls."