More students sit postgraduate qualifying exam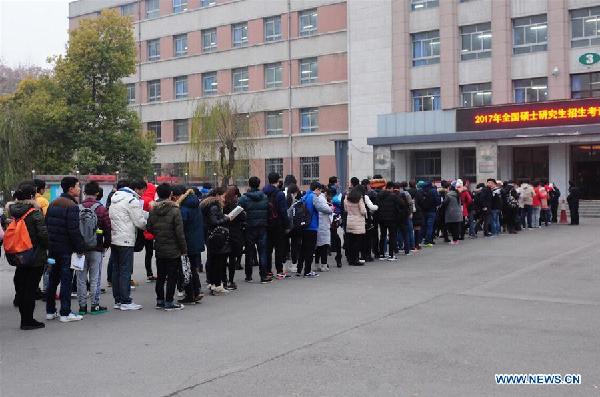 Candidates wait for participating in the 2017 national entrance examinations for postgraduate studies at Henan Agricultural University in Zhengzhou, central China's Henan Province, Dec. 24, 2016. [Photo/ Xinhua]
The qualifying exam for Chinese postgraduate candidates in 2017 started on Saturday, lasting for two days.
Candidates for the 2017 academic year have increased greatly, according to a report on China's biggest educational website on Dec 21st.
In Jiangsu, Beijing and Liaoning province, the rate of increase was over 20%, with the overall national growth rate being about 20%.
The report also mentioned that master degrees at top universities in China, participants of the 985 and 211 projects, are popular. For example, the number of candidates at Shandong University rose by nearly 29% compared with last year.
From 2010 to 2015, masters for engineering accepted the most students, followed by management and medicine. Over half of all majors were offering space for more students, though student numbers for literature, philosophy and history dropped slightly.
As for the reasons given for going for a masters degree, 35% of respondents said it's "not easy to get a job with a bachelor degree," followed by "further education" (31%).
In China, some excellent students can be granted an exemption from writing the admission exam. However, 66% of students disagree with the policy, with only 25% agreeing, said the report.
The report showed that since 2014, the number of students who did not need to take the exam for top universities was increasing every year, with the percentage for some important majors being over 90%, or even 100%.
In the 2017 academic year, the rate will be 100% for Yenching Academy, Institute of Molecular Medicine, and Graduate School of Education of Peking University.
In China, there is also a kind of undergraduate education called "on-job postgraduates," which means students work and study at the same time, and they are partly released from regular work.