If Palace Museum tap into the beauty market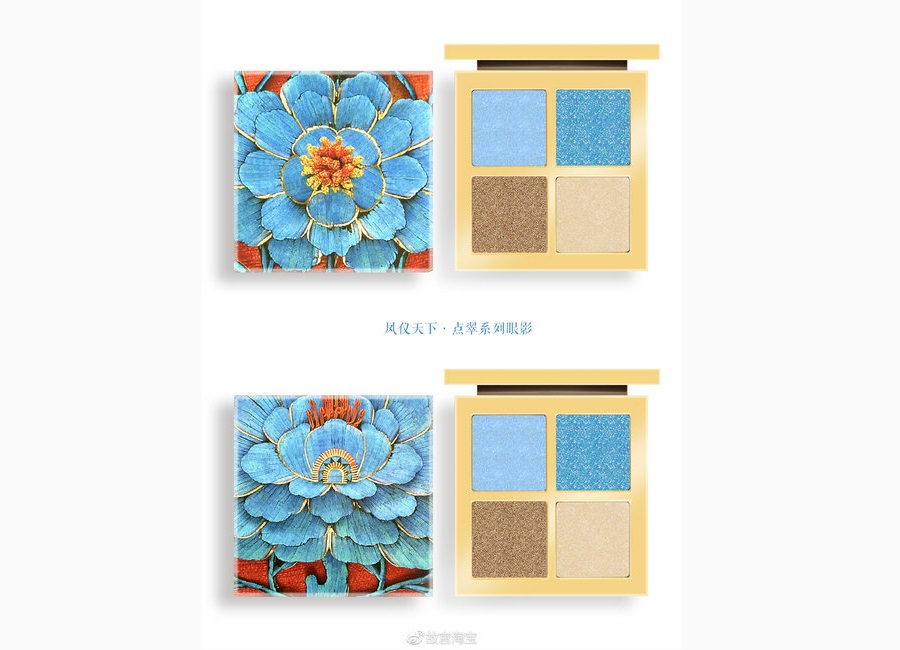 The eye shadow palettes draw inspiration from the gold royal jewels decorated with blue kingfisher feathers. [Photo/Official Weibo account of Palace Museum Cultural Service Center]
Cultural and creative products of the Palace Museum are back into the public spotlight with an even greater market potential. This spring, an article titled What if the Palace Museum enters the cosmetic world became a hit on Weibo, a micro blog.
Gugong Taobao listed a few potential items if the Palace Museum would launch its line of beauty products. They include eye shadow palettes, blushers and nail polishes, all of which derive from a myriad of artistic pieces in the Forbidden City. The museum neither claimed that they will tap into the beauty market nor made any comment on whether it had such a plan.
The eye shadow with four vibrant colors originates from the gold royal jewels decorated by kingfisher feathers. Gold and blue shades echo the royal taste of Qing Dynasty (1644-1911). Blushers and nail polishes draw inspiration from famous paintings such as A Thousand Li of Rivers and Mountains by Wang Ximeng from the Song Dynasty (AD 420-479) and A Lotus Flower Just Rose from Under Water by Wu Bin from the Ming Dynasty (1368-1644).