The Divine Michelangelo, a must-see exhibit in Beijing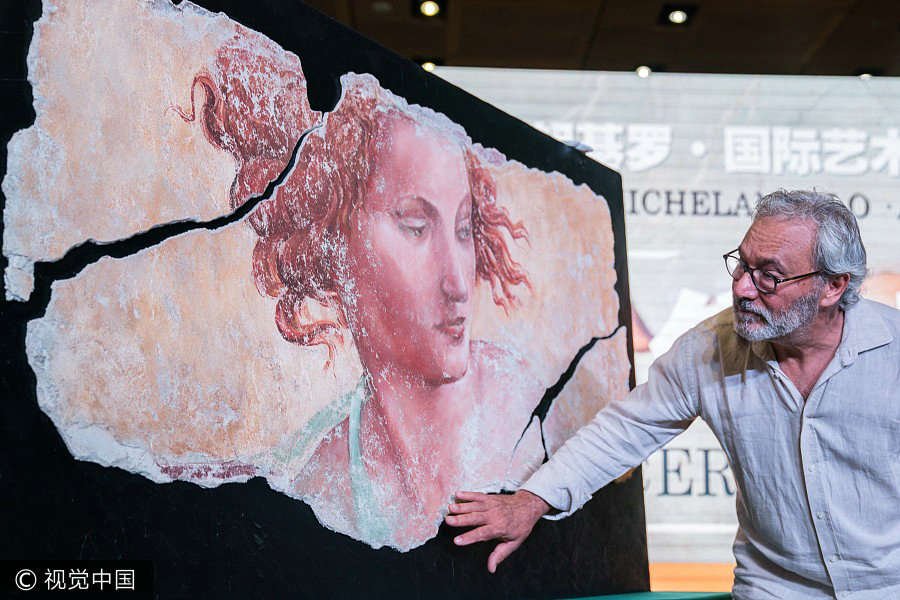 Curator Antonio De Vito inspects a replica of Angel behind Prophet Ezekiel by Michelangelo at the opening of the exhibit. [Photo/VCG]
After a successful debut in Shanghai, The Divine Michelangelo Art Exhibition, opens to the public in Beijing on July 15.
The exhibition, co-hosted by the Bird's Nest Culture Center and the Casa Buonarroti Museum, comprises 105 items, demonstrating Michelangelo's artistic achievements in drawing, sculpture, architecture, poetry and fresco.
It features several of his renowned statues including one of only three life-size replicas of David in the world.
Using VR technology, the exhibit recreates the medieval scene from hundreds of years ago allowing visitors to feel as if they are in the Sistine Chapel looking at the Genesis and The Last Judgment.
The event is curated by an Italian national-level muralist Antonio De Vito. The artist will also recreate Michelangelo's studio in the exhibition hall and paint a copy of his mural Lybian Sybil on site.
The exhibition is on until October 10.