Veteran artists create from emotions in new show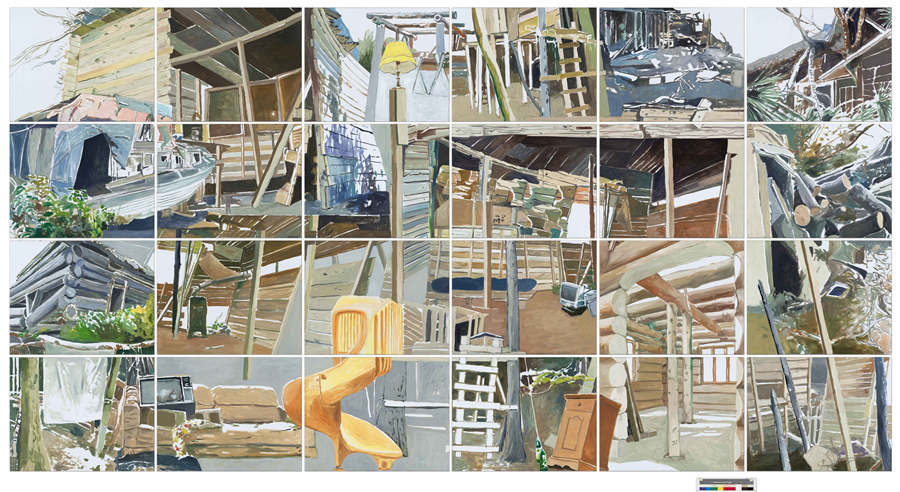 An oil painting by artist Alois Mosbacher. [Photo provided to China Daily]
All born in the mid-1950s, Chinese artist Wang Luyan, Italian artist Gianni Dessi and Austrian artist Alois Mosbacher experienced the dramatic changes from the Cold War period to a globalized world. Their creations are grounded on the issues and emotions shared by people of different cultural backgrounds, providing an experience that's universally engaging.
Their paintings and installations are on show at an ongoing Beijing exhibition, titled Bridging Asia-Europe, at the Parkview Museum through Sept 17.
In his The Sketch series, Wang is inspired by mechanical drawings to paint his subjects, guns, birdcages and watches with straight lines and in an unemotional manner. He discusses the potentially dangerous relationship between people and machines and weapons. He examines whether people's paranoia about security would end up in self-destruction.
Dessi exposes his own fears by creating disfigured images of humans. He voices an anxiety over people's sense of being lost in a confusing reality.
Mosbacher paints scenes of forests and wild fields that look messy, mythic and like a maze. He points to people's hidden ability to imagine without limits, which is neglected however when people need to cope with rules in reality.