Lhasa celebrates Shoton Festival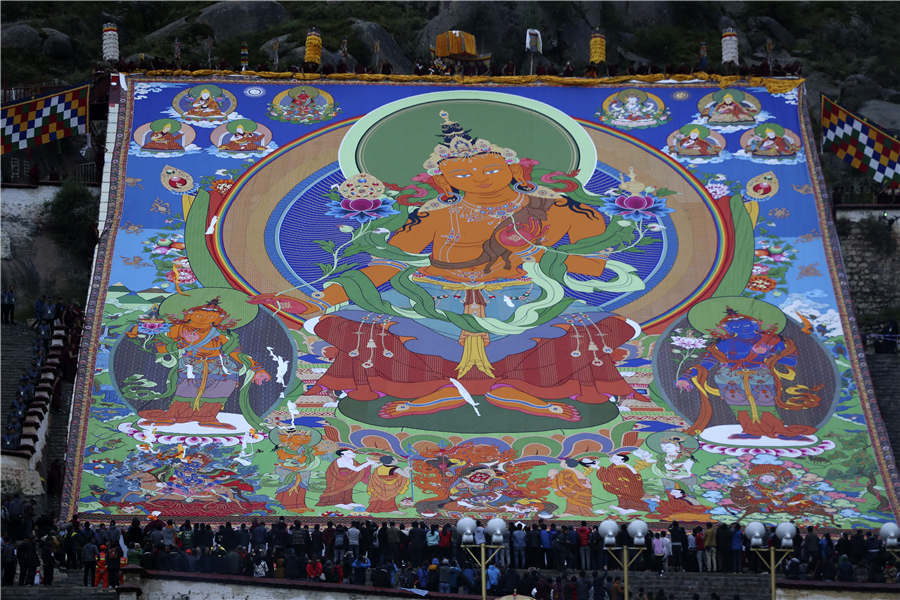 A large thangka painting of the Buddha is exhibited at Drepung Monastery in Lhasa, capital of Southwest China's Tibet autonomous region, Aug 21, 2017. Buddhists and believers thronged Lhasa for the start of the traditional Shoton Festival. The Shoton Festival, also known as the Yogurt Banquet Festival, is a week-long gala held since the 11th century. [Photo by Feng Yongbin/Asianewsphoto]
Lhasa city, capital of Southwest China's Tibet autonomous region, began celebrating the annual Shoton Festival on Monday.
The event began amid a drizzle at Drepung Monastery, the largest monastery of Tibetan Buddhism's Gelug Sect, where a large thangka painting of the Buddha was on display.
At 7:10 am, monks and believers moved the painting from the great hall of the monastery to the exhibition stage as thousands of people watched on the winding mountain road.
A man in his 30s named Kunga took his wife and daughter to the Buddha exhibition. Kunga and his family woke up at 5 am at their home in Lhasa's Liuwu New District.
"I'm busy with my business and the child is busy at school. It's good to spend some time with her during the festival," said Kunga. He said the Shoton Festival is the second most popular festival in Lhasa, only following the Tibetan New Year.