Emperor's inscriptions found in Yuanmingyuan ruins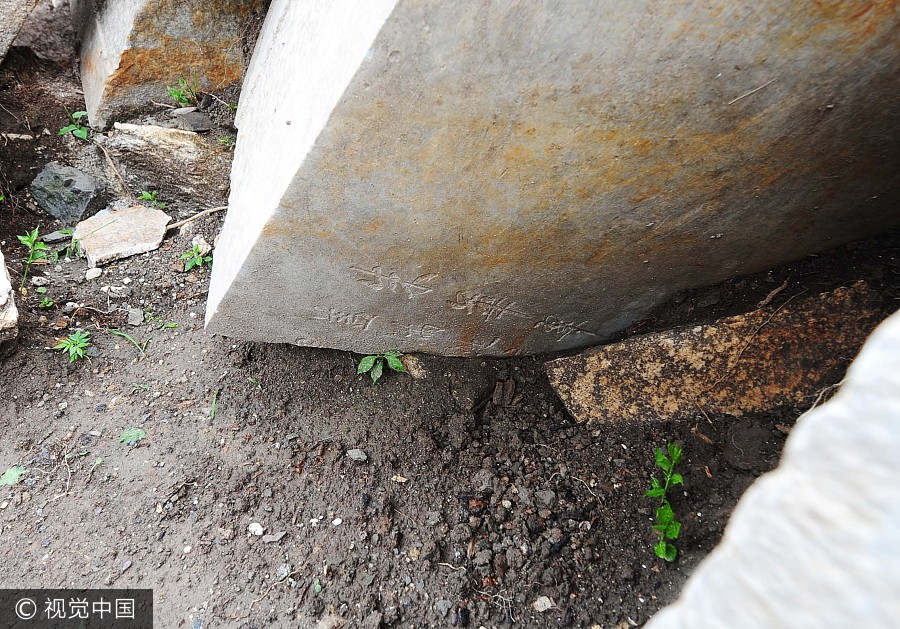 The discovered inscriptions from Emperor Jiaqing in Yuanmingyuan, Beijing, July 14, 2017. [Photo/VCG]
Archaeologists recently found Qing Dynasty (1644-1911) Emperor Jiaqing's inscriptions on a large stone at Ruyuan Garden, the best preserved garden site at the Yuanmingyuan ruins.
What surprised archaeologists most was that below the inscriptions, two seals were also found, with one featuring an imperial jade seal. Zhang Zhonghua, a head from Beijing Municipal Institute of Cultural Relics, said that it was certain that the inscriptions on the tablet were from Emperor Jiaqing.
As the stone tablet is too large to move, some of the inscriptions are buried underground and beyond recognition. According to historical records, the emperor typically took a boat to get to the Ruyuan Garden.
The largest-scale excavation work at the Yuanmingyuan ruins started in 2013 and will continue until 2020. So far, explorations in 22 scenic spots have been completed and over 50,000 pieces of relics have been discovered.  
The archaeological work of Yuanmingyuan began in 1996, and 50,000 square meters of the garden have been studied in detail thus far. While the whole garden covers an area of 2.4 million sq m, with more than 100 scenic spots.
Yuanmingyuan, also known as the Old Summer Palace, is located on the west side of Beijing and was originally a large imperial garden in the Qing Dynasty. It was ruined by English and French troops after massive looting in 1860.