Music from heaven: Instruments in Dunhuang frescoes go on show in Beijing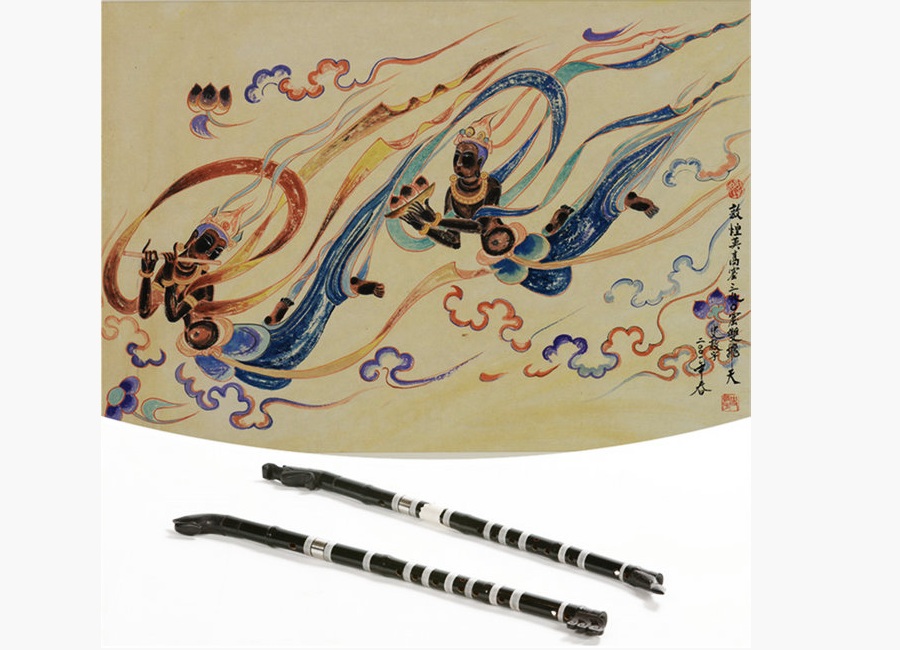 Shi Dunyu's imitated copy of Dunhuang frescoes and two pieces of instruments portrayed in the painting. [Photo/chncpa.org]
In Buddhist texts, there are many fairies and bird-shaped mythical creatures that play instruments to praise Buddha. They also used music to express happiness when they heard the valuable teachings given by Buddha.
The fairies portrayed in the Dunhuang frescoes were based on descriptions of Gandharva (乾达婆) and Kinnara (紧那罗), two groups of protective gods in Buddhism.
Gandharva are gods of fragrance, in charge of music for Deva. In the frescoes of Dunhuang Mogao Grottoes, the gods holding flowers and jewelry are Gandharva. Kinnara are also gods of music who can also be found playing musical instruments in the frescos.
These frescoes were in 240 grottos in Dunhuang, portraying more than 4,500 musical instruments of 40 categories.
Now, people can have a look at these instruments at an exhibition held at the National Center for the Performing Arts.
The event also features painter Shi Dunyu's imitated copies of Dunhuang frescoes about fairies and mythical creatures playing music and dancing.
Opened on April 28, the exhibition will run until May 30.