Old scholars help preserve ancient Shui script in SW China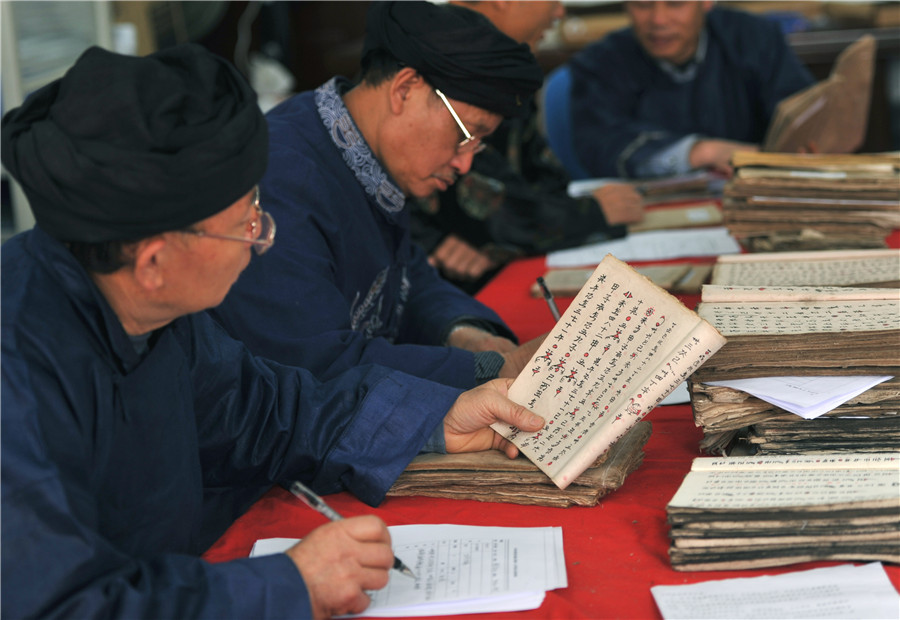 Old scholars sort books of Shui script collected from local people at the Shui autonomous county of Sandu, Southwest China's Guizhou province, March 22, 2017. [Photo by Ning Jian/Asianewsphoto]
The Shui script, known as the "living fossil" of pictograph characters, was used by the Shui ethnic group in Southwest China's Guizhou province. It's not only an important heritage of their ancient culture, but a written record of Shui history.
The culture of Shui people originated on the banks of the Duliujiang River, south of Guizhou province. About 220,000 Shui People still reside near their mother river.
Shui script is a pictographic writing system of the Shui people's language. This system was used by shamans for geomancy and divination purposes in ancient times.
Many characters appear to be borrowings from Chinese characters while some of them are pictorial representations, such as a bird or a fish.
However, the Shui script is in acute danger of extinction, and the government is attempting to preserve it. In 2006, Shui script was inscribed on the Chinese Intangible Cultural Heritage list.