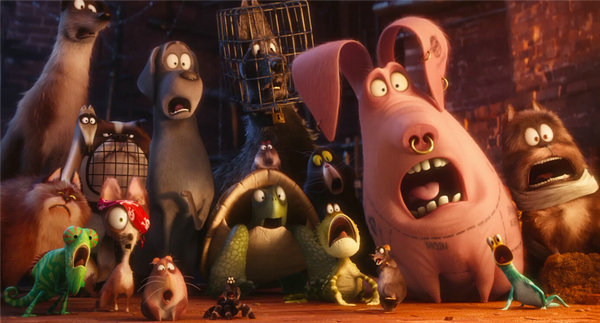 The new animation movie The Secret Life of Pets opens in Chinese mainland theaters on Tuesday.[Photo provided to China Daily]
With The Secret Life of Pets, He Jiong and Chen Peisi join a growing list of Chinese celebrities on the voice-over bandwagon. Xu Fan reports.
Following The Little Prince and Kung Fu Panda 3, The Secret Life of Pets is the latest foreign animation feature to use Chinese star power to gain attention in the world's second-largest movie market.
Illumination Entertainment, known for the Despicable Me franchise, has used He Jiong, a TV anchor, and Chen Peisi, a veteran actor, to do voice-overs for two characters in the Mandarin version of The Secret Life of Pets.
The 90-minute movie, which dominated North America's box-office charts in its debut weekend in July, opened in Chinese mainland theaters on Tuesday.
For viewers, who have pets, the film tries to answer a key question: What do pets do when their owners aren't home?
Set in New York, the family-friendly film is about a terrier named Max, who finds his life turned upside down due to the arrival of a sloppy mongrel called Duke.
But the rivals form an alliance as they are hunted by an evil rabbit called Snowball and its underground army of lost pets.
Admitting that Chinese star power played a role in the decision to pick him to do the dubbing, He, 42, who is followed by nearly 80 million people on the Twitter-like Sina Weibo, says: "I know I might not be the best option as Max (the terrier). But the producers need celebrities or familiar faces to publicize the movie."
But he finds joy in his work. And, as a pet lover in real life, he feels an emotional connection with the character.
"Max is not always passionate, nice and positive. I can sense his transition-from being childish and a bit devious to being brave and responsible," He said before the film's preview in Beijing on July 29.
The TV anchor, a veteran who has done voice-overs for Hollywood hits Ratatouille (2007) and Monsters University (2013), says China has in recent years relaxed its rules with regard to voice-overs.
Earlier, every word had to be translated into Chinese, but now you can keep a few English words if they can be easily understood by the audience.
"For example, you can use 'bye bye' instead of zai jian, or Mike instead of Mai Ke," says He.