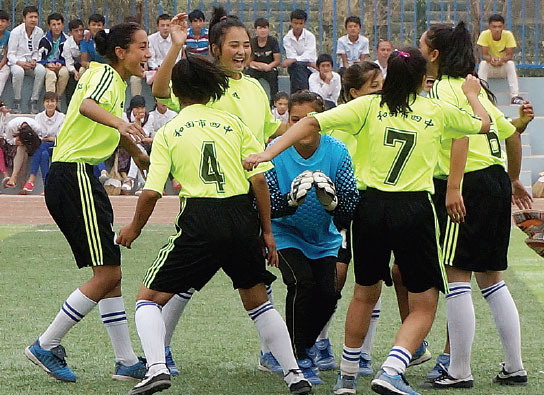 Players of the Hotan No 4 Middle School girls' soccer team celebrate a goal. The all-girl team was the first of its kind in Hotan prefecture.  Liu Jing / China Daily
When Dilnur Mardan joined her school's soccer team she knew almost nothing about the sport, but now the 15-year-old Uygur is the team captain and one of the top strikers, with ambitions of playing in the women's World Cup.
Founded in September 2013, the Hotan No 4 Middle School girls' soccer team was the first in Hotan prefecture in the Xinjiang Uygur autonomous region.
The 22 members have an average age of 12, and are all members of the Uygur ethnic group. They train for about 30 hours a week to prepare for tournaments. "They work really hard," said coach Akram Mokhtar. "When I finish assigning training targets, they always ask for more."
For many of the players, the challenges come not only from the intensive training schedule but also from their families - many parents prioritize study over soccer, while others believe girls shouldn't play the game. "It took great efforts to persuade some parents to let their daughters wear shorts," Akram said.
Dilnur's parents were no exception. At first, they refused to let her attend training because "soccer is for boys", but eventually they relented after more than 10 visits from Akram and the school principal, who explained how playing soccer would benefit their daughter.
"My parents now fully support me because the sport has taken me many places they have never been and has broadened my horizons," Dilnur said, adding that her parents are now fans of the team and often watch games.
The team has won awards at a number of local tournaments, and last month it finished second in the regional youth league.
Akram said the game brings the girls great happiness and a sense of achievement. "At first, they just played for fun. But when they make their mark, they feel proud and it encourages them to keep fighting."
The success of the team has encouraged more girls to stop watching from the sidelines and take part themselves. "In the past, you hardly saw girls playing," Akram said. "Now, when school is over, they rush to the pitch to play, sometimes even against the boys. The sport knows no gender, nor boundaries," he said.
In recent years, soccer has flourished in Xinjiang's primary and middle schools, and the region is now a hot spot for the sport. Teams from Xinjiang have won numerous prizes both in and outside of China, and children can be seen playing on all types of surfaces, sometimes even in bare feet.
In 2011, the Xinjiang authorities issued a memorandum to develop soccer across the region. By the end of last year, the number of students participating in matches and competitions had risen to 100,000 from more than 1,000 of Xinjiang's 5,100 primary and middle schools. Four years ago, there were only 200 schools and 10,000 students.
Within three years, soccer will be taught to national standard in 10 percent of Xinjiang's schools, and will benefit from policies to support teaching, training, competitions, enrollments and funding, according to the regional authorities.
liujing-4@chinadaily.com.cn